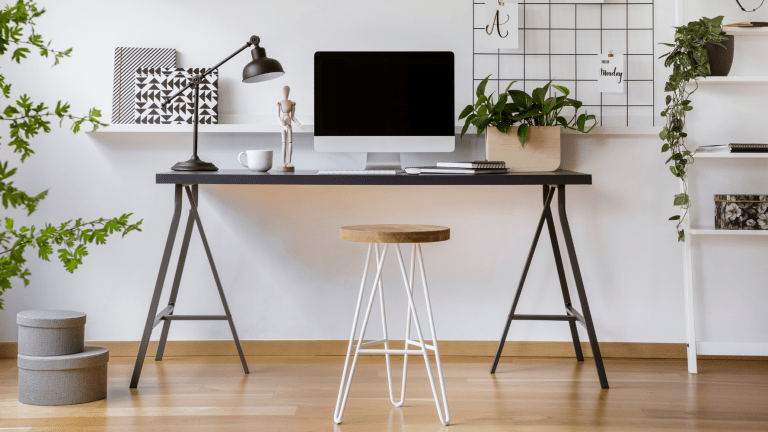 How to Create Your Own "Zoom Room"
Because On-Camera Conferences Calls Are Still Going Strong
Have you ever had to improvise a clean working spot in your home to accommodate a last-minute Zoom meeting? How about your kids? Have they "home-schooled" from their beds or the floor or a random quiet corner? 
These days, we are all starved for adequate space for the virtual on-screen lifestyle that has been thrust upon us. And now that we've had a solid 11 months to get this work-from-home situation figured out, we had better up our office game. Want to know how to set up the perfect Zoom-worthy space for all your calls and conferences and meet-ups? Marty Bash, Modular Closet's home and organization expert, is sharing a few key tips to make your home look camera ready. 
Of course, with these amazing ideas in mind, we also want to add that, if sprucing up your Zoom space helps you feel productive and successful, go for it. But if you're just doing what you need to do to get through this difficult time, that's fine too -- click off that camera icon, and feel no guilt.
Create A Dedicated Space
The first tip is to have a dedicated work space for zoom calls. It needs to be a space that doesn't have to become something else half of the time, so the dining room table might not be ideal. What you want is to be able to set up your laptop, turn on the camera and link to a meeting without having to worry about what your background looks like.
It also needs to be a quiet space, so a hallway or area where others in your household are always passing through probably won't work. Some 'out of the box' solutions include using the unused space under the stairs or building out a disused closet with some added shelving, so that you can set the right background, use the space, and then close the doors when you're done.
Wherever that space is, make sure that you have great lighting—a ring light is a good investment for this—and a strong wifi signal. For lighting, it's ideal if there is natural light, with a window in front of you, or beside you. And as far as the wifi goes, a booster can help, particularly if your zoom room ends up being in the basement and a long way from the internet router.
Avoid Clutter
Both in the camera's visual range, and outside of it, keeping clutter to a minimum will help you find the work space more usable and will certainly give a more polished look, on camera.
Ideally, your workspace will include storage so that you have a place to put all your files or other materials, to keep things tidy. It's hard enough working virtually without having to bob and weave off camera, rifling through documents or notebooks, to come up with what you're looking for. Having everything you might need at hand, yet tidy, is the goal.
It's also important to make sure there's nothing in the camera's range that you wouldn't want strangers seeing, like a pile of unfolded laundry. Turn on your camera at the beginning of each day, before any meetings or classes start, to check.
Create a Background As if Everyone is Watching. Because They Are.
If you have shelves behind you, you can be sure that people in your meetings are checking out what's on them. So make selections that you are comfortable with others seeing and limit the mementos and tchotchkes that only resonate with you and your family. It doesn't have to be impersonal, but you want it to be professional.
What you don't want is something that distracts other participants in your video calls. That can be anything from a vivid painting to your collection of Star Wars memorabilia. A figurine or two for personalization is one thing: the complete set is another.
Position Yourself For Comfort and Style
A desk at the right height so that zoom participants aren't looking up your nose; a comfortable chair that doesn't have you sitting too high and glowering down into the camera… These are important additions to your zoom room.
You want to be able to look straight at the camera, which might involve raising your laptop on a platform on your desk, and using a wireless keyboard. Anything to avoid angles that are both unflattering and distracting to the other users.
Comfort matters too: if you have to constantly tip your neck up or down to get the right angle when you're looking into the camera, an hour long meeting is going to end up mighty uncomfortable by the end.
Play with your new zoom room setup before your first call, or have a zoom call with a friend, to get their opinion on how everything is looking, before you get on an important client call. You'll be happy that you did!
Want more from Momtrends?
1. How to Look Your Best on Video Conference Calls