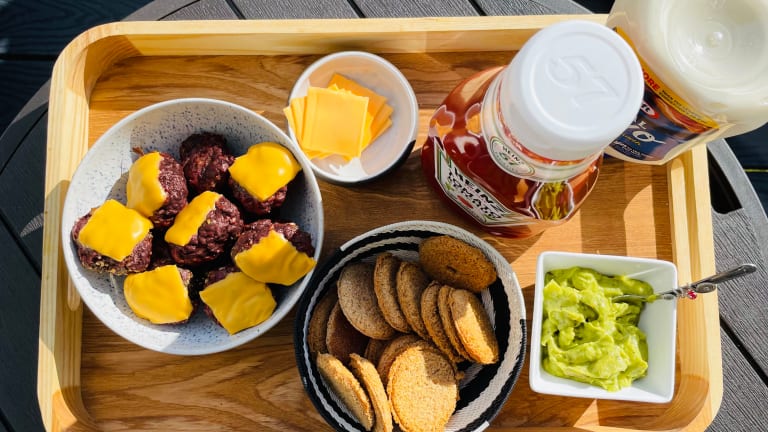 How to Create the Perfect Mini Burger
Show off your chef skills and enter to win the Heinz Art of the Burger contest.
This is a sponsored post for SheSpeaks/Kraft Heinz Food Company.
Hurrah! Deck season has arrived, and we are loving spending more time outdoors. My family absolutely loved these sliders that I prepped for a weekend lunch. With minimal prep time (and mess!), I was able to create the perfect mini burger for a mountainside lunch. I want to share the recipe and encourage you to tap into your cooking skills to enter the Heinz Art of the Burger contest.
All Great Recipes Start at Target
I started this recipe with a run to Target for supplies. During the lockdown, I have relied on my Target app to help me make strategic visits to stock up on food. Now that I can safely shop again, I love heading in-store to get inspiration. Since my family loves anything grilled, I wanted to mix things up a bit.
The idea here is that anything small is cuter and more fun. I got the idea to make mini burgers after I picked up some ground beef and Heinz Ketchup. But I was stuck on the mini buns. I wanted to make sure the burger stood out, not the bread. Then I thought about the sandwiches I used to make the girls in grade school with cookie cutters ... and the idea was born to make my own mini burger buns.
After a quick shop at Target, I was ready to head home to start cooking!
Perfect Mini Burger Ingredients:
1 pound ground beef
1 tablespoon salsa spice mix (optional)
1 loaf sliced whole wheat sandwich bread
Kraft Singles cut into quarters
Guacamole for garnish
Other favorite Kraft and Heinz products for toppings
Head to Target here to add Heinz condiments to your Target shopping carts.
Directions for the Perfect Mini Burger:
Season ground beef with Southwestern spice mix. I used a dry salsa mix.
Separate the ground beef mix into 14 evenly sized mini patties. Place meat back into the fridge until you are ready to grill.
Use the mouth of a jar or a cookie cutter to create your mini buns.
Toast buns in the oven. Bake at 350 degrees for about 5 minutes per side.
Get your grill ready.
Grill burgers about 5 minutes per side.
After the first flip, add the Kraft Singles.
Serve burgers with guacamole and Heinz Ketchup.
And here are tips for grilling your burger to perfection:
Start with cold meat (even your hands should be cold)
Have patties of uniform size
Put a thumbprint in each patty—when it pops up, the burger is done
Don't flip burgers a lot—one time is plenty!
Use meat thermometer: 145 degrees for rare, 160 degrees for medium, 170 degrees for well-done
As you can see, these mini burgers pack a lot of flavor in, and they taste best with a healthy dollop of Heinz Ketchup. These make a great snack, party food or lunch. In fact, next time I might double the recipe and freeze half of the uncooked burgers to have on hand for a quick dinner or snack.
Heinz Art of the Burger Contest
Now that you've seen my creation, it's time to get cooking and enter the Art of the Burger Contest.
We all love a good burger. As Heinz sees it, burgers are a blank canvas, which makes Heinz Ketchup and sauces the perfect medium. Heinz wants to encourage people to unleash their inner burger artist and treat every burger as a work of art, and they're giving people the opportunity to submit their delicious masterpieces to the burger art contest for a chance to win weekly prizes. One grand prize winner will receive $25,000, travel to three different cities in the US to experience the best burgers around, spend time at Heinz HQ where they'll get to consult on a new sauce in development, and receive a lifetime supply of Ketchup, Mustard & Relish. 

How to Enter:
Submit a photo of your burger at HeinzArtoftheBurger.com, or head there to see all entry instructions to enter on Twitter or Instagram.
Submissions are accepted each week and must be accompanied by an indication of which category out of seven total category options you are submitting for. 
Seven Total Category Options
Ketchup
Mustard
Mayo
Relish
Barbecue
Flavor Combinations
Freestyle
Judging Criteria: Burger Submissions Will Be Reviewed and Scored Based on a Set of Criteria, Including:
Creativity: What makes a burger a work of art? The interplay of its components! Is it maximalist? Minimalist? Does it employ an abstract arrangement of ingredients? Show us your creativity by letting your imagination run wild (25%);
Presentation: Capture your burger with a photo worthy of its boundless creativity! Make sure your snapshot conveys every ounce of effort, nuance of delectability and morsel of meaning (25%);
Build: Will your burger masterwork stand the test of time? That is to say, can it literally stand on a plate and be served? (25%); and
Sauce: We're looking for a sauce to be central to the burger's theme. If it's going to taste like art, let's make sure we can identify the medium (25%).
Head here to enter the Art of the Burger Contest. 
NO PURCHASE OF KRAFT HEINZ PRODUCTS NECESSARY TO ENTER THE CONTEST. Enter contest by: 7/19/21. To enter and for Official Rules, visit www.HeinzArtoftheBurger.com. This is a sponsored post for SheSpeaks/Kraft Heinz Food Company.