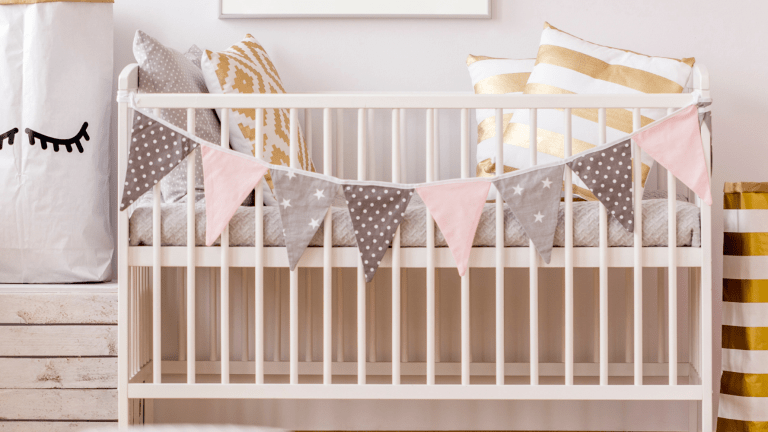 How to Create an Organized and Functional Nursery
An essential strategy to avoiding clutter is to make sure that every item you have in your house has a designated home. This is even more important in a baby nursery, where being able to lay your hands on what you need, quickly and easily, is the order of the day (and night). 
So how can you set yourself (and your new addition) up for success?
Safety is top priority
Midnight changes after a diaper blow out; spit ups that necessitate a full on outfit swap; exhausted moms and dads who just need to put their hands on that extra package of diapers… These are all good reasons to make sure that the baby nursery is well organized and planned out.
Overarching to all of these needs is safety. You can't leave a baby on a change table, while you go rooting through the laundry pile, looking for a clean pair of footie pajamas! So having everything at the ready, and easy to reach, is vital.
While newborns don't get around much, it isn't long before older babies are crawling around and checking out their living quarters. Clutter can make that space more dangerous for them. Having a well designed closet is the perfect way to make sure that every item of clothing, extra toys, diapers, and essentials like diaper cream, baby shampoo and so on, have a place. Plus, a closet for most storage ensures that baby who is learning to pull themselves up to standing won't be pulling on anything that can fall over and hurt them.
Build a closet that works for you
While a custom designed closet might seem like an extravagance for a nursery, being able to lay your hands on the extra burp cloths at 1 a.m. is not. And with Modular Closets easy to assemble systems, including FREE design services, you can get a gorgeous professional custom closet for baby's room ordered, shipped for free and assembled in no time.
Modular Closets are made from top grade 3/4 in. solid plywood, simple to install, and affordable, saving 40-50% over other closet providers because, let's face it, having a baby will not be easy on the wallet.
A particularly lovely features in Modular Closets designs are the soft close drawer slides, so there is no loud bang as you hip check the unit, while holding on to your tiny sleeping bundle. Each drawer is made with solid wood—not the cheap particle board materials found in other DIY closet sets—with dovetail edges.
You can keep all the tiny items like socks and hats in organized, easy to open drawers, and the other essentials, like onesies, pajamas and other outfits either hanging nicely so you can grab what you need and go, or folded and stored for easy access. Baby's closet shelves are also a great place to put extras of all the items you will use all the time, like diapers and wipes, so that you can quickly spot when you're running low!
Realistically, you'll probably end up putting baby in the same few onesies and pajamas for a while. Storing those items, whether in a drawer or on a shelf in a cube or bin, is quick and easy after the laundry is all done and folded. Keep the hanging rods for the special outfits that you have, for the holidays or other events, and keep the everyday pieces handy, all in one neat and tidy design.
A tower with drawers and shelving allows you to use baskets or other containers to store everyday items, out of the way but easy to retrieve. Higher shelves make it easy to keep any shampoos or other products out of reach for when baby starts moving!
Design for today… and tomorrow
Instead of choosing baby focused furniture, opt instead for quality pieces that will last through childhood and beyond. Understated, solid furniture such as a convertible crib that turns into a single bed or a dresser with a change pad instead of a change table allows your child's furniture to grow with them. A quick change of decor, such as pillows, pictures, lighting and window dressing, takes the room from baby nursery to toddler bedroom to school aged child's room, without the fuss and expense of replacing all the furniture.
The same is true of a well designed custom closet system: you can build it so that items are easily stored and still reachable for a younger child, so they can learn how to put away items too, and eventually be used by an older child with ease. A shelf that once held boxes of toys can be shifted to hold school supplies, in the future. Reorganizing and repurposing is possible when you have a quality set up in the first place.
When you're first priority is your baby's safety and wellbeing, creating a space that supports you in that has to be number two on the list. A closet designed to your specifications, built with long-lasting solid materials and easily installed without the usual cost of custom construction? There's no better option.
With pre-designed closets, or closet sections available with a custom design, you can quickly and easily put together a system that will work in baby's nursery, now and in the future.
Copy and tips via https://www.modularclosets.com. This is not a sponsored post.