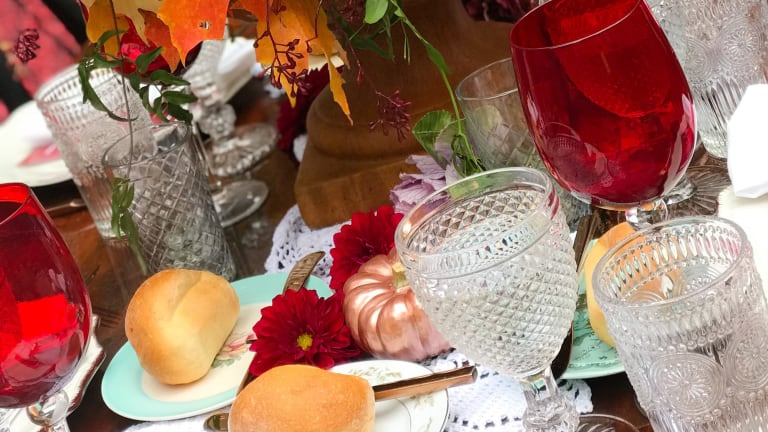 How to Create a Gorgeous Thanksgiving Tablescape
Four stunning DIY decorating ideas for your dining table to celebrate the Thanksgiving holiday.
T-minus three days until the biggest feast of the year. There's a chill in the autumn air--Thanksgiving is almost here. Time to clean, to cook, to prep, to set, and decorate. Whether you're hosting a fancy adult-only affair or a casual party with kids, babies, and families, we have lots of last-second ideas that will make it appear like you've been preparing for months.
Related: Thanksgiving turkey preparation safe thawing basics
Load Up the Flowers
One thing that instantly transforms a table? A full vase of flowers. Robust blooms in fall colors create a beautiful harvest scene. Don't want to spend a fortune? Go to you local Trader Joe's and load up on sunflowers, mums, and other seasonal and affordable staples. Arrange in terracotta planters to bring a touch of the outdoors, indoors. 
Use Lots of Candles
Create a simply chic table with minimal effort using a simple brown-paper tablecloth. Place faux greenery along a line in the center of the table and then place lots of white candles of varying sizes along that path. If you are someone who is artistically talented and DIY-minded, you can draw place settings with names at each spot of the table. (via LemonThistle.com) 
Put Out All the Pumpkins
Save those Halloween decorations! Load up your center with lots of little pumpkins and gourds. A white and orange theme will tie the table together, and a few big real (or faux) leaves will create an almost effortless harvest vibe. (via Bright on the Day)
Keep it Colorful for the Kiddos
Bright colors, activity placemats, DIY crafts, other fun turkey touches, and, when in all else fails goodies!, make for a successful (and engaging) kids' table. (via Pizzazzerie)
And don't forget your Thanksgiving gratitude free printables
MORE THANKSGIVING IDEAS FROM MOMTRENDS
PIN IT!
For more Fall crafting fun, be sure to follow our Fall Thanksgiving & Halloween board here.
This is not a sponsored post.