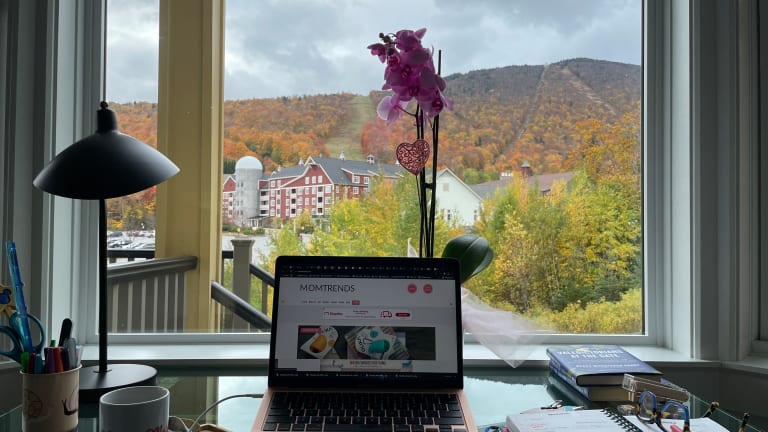 How to Care For Your Orchid to Keep it Alive
Watering with ice is the easiest and most convenient way to ensure your orchid gets just the right amount of water - not too much or too little.
Flowers are such a balm. Having a bloom in my home can instantly bring my stress level down a few notches. I love getting weekly bouquets from my farm stand and I love having flowering plants in my home too. The trouble is, I'm not great with plant care. I've been wondering how to care for my orchids to keep them alive and I found some great tips from professional orchid growers.
Related: Aromatic plants that help you breathe better
The Beginner's Orchid
The first thing to know is that the type of orchid matters. The Phalaenopsis orchid, often called the "beginner's orchid", or moth orchids, are one of the easiest orchids to take care of. I was sent this new one from Just Add Ice. It arrived boxed beautifully and was immediately given a spot of honor on my desk. This beginner orchid is meant just for newbies like me to be able to succeed at keeping something pretty and delicate alive.
Watering with Ice
Watering my Just Add Ice Phalaenopsis orchid couldn't be easier - all I need is three ice cubes once a week. This is my kind of low-maintenance plant. Watering a tropical plant with ice might seem strange, but independent research has shown watering with ice has no negative effects on orchids.
If you choose to skip the ice cubes and use water, be sure to use no more than ¼ cup for a full-size orchid; otherwise you run the risk of overwatering, which can cause root rot.
What Temperature
Phalaenopsis orchids love the bright, indirect light of most homes or offices. The same goes for temperature. Any temperature you're comfortable at — as long as it's not under 60 degrees — your orchid will enjoy, too.
Orchid lifecycle
Now that you know the intricacies of your orchid, you might be wondering about when it blooms and rests. Phalaenopsis orchids usually bloom once a year. In their native tropical environments, Phalaenopsis orchids will grow new leaves in the summer or early fall and sprout a new stalk in winter. Fresh new flowers will bloom in late winter or early spring. Because Just Add Ice® orchids are grown year-round, our orchids can stay in bloom for two to three months if kept in the correct conditions. 
When The Blooms Fall
What happens after your orchid has finished blooming? Its flowers will wilt and fall off. When this happens, don't worry, your orchid's not dead, it's just storing up energy to rebloom. Now that I'm learning how to care for my plant, I want it to last. When the blooms fall off, I have a plan. I'm going to embrace the resting phase: this is when the plant has a bare stalk and green leaves. While your resting orchid may not match your decor, it's good for your plant — it's storing up the energy to give you another round of beautiful flowers.
For more orchid care go here www.justaddiceorchids.com/phalaenopsis-orchid-care 
Order Our Favorite Orchids
Here are four orchids to order. I've come up with a selection of colors and heights. 
MORE IDEAS TO BRING PLANTS AND FLOWERS INTO YOUR HOME FROM MOMTRENDS
PIN IT!
Use Pinterest to save your favorite ideas from Momtrends. Be sure to follow your Home Style inspiration board here.
Momtrends was not paid for this post.