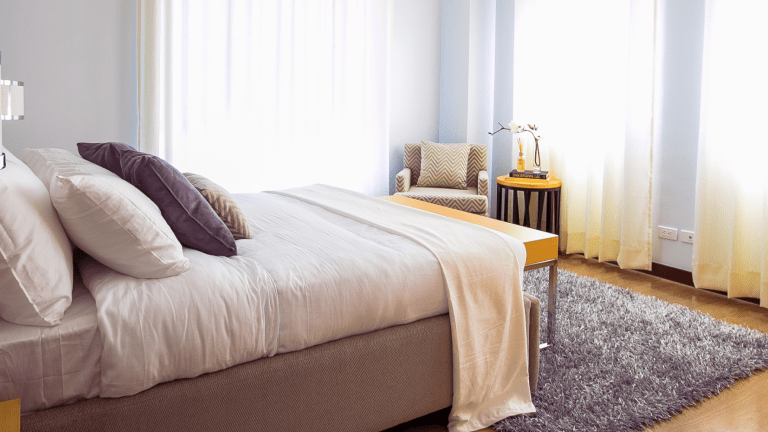 How to Be the Ultimate Hostess
Invite Guests to Enjoy Your Home Amenities
Preparing for guests means more than just offering up your guest bedroom. The bedroom where they will be sleeping is the ideal spot for them to 'get away', so make it a space that they'll enjoy being in, and not just a place for some shut-eye. So besides a set of guest towels and an extra pillow or two, here's what you can do to make the guest bedroom an oasis.
Who doesn't love toiletries?
What do you do when you first go into a hotel room? You probably check out the free toiletries, right? Even seasoned travelers like the pint-sized products. Indulge your guests a little with a special shampoo and conditioner, some soap, and a shower cap. Add a little note reminding them that you have a stash of other necessities in the event that they forgot an essential, such as toothbrushes and toothpaste, sanitary products, a comb and so on.
Another nice touch is to have hotel style slippers in the room, as that is an item people often forget to bring when they travel. Your guests can use them to walk around the house comfortably, too!
There is an added benefit of having a few of these items on hand: in the event of a 'surprise' guest (someone who attended your party and perhaps indulged a little too much) you'll be ready to make them as comfortable as can be!
Make sure that your guest room has a few other necessities ready
A waste basket, tissues. a clock, a night light, an accessible plug for chargers, hooks on doors or space in a closet for hanging clothes (include some hangers too), as well as shelves for folded clothes or dresser with available drawer space, an extra blanket and pillows, and a booklet with information such as the WIFI password, and any instructions about your home. For example, if you use an alarm system, make sure to let them know that you arm it at night so they don't decide to take an early morning walk and wake the whole house!
Snacks, water and wine
Leave a bottle of wine and water, as well as a set of glasses in their room, and a basket of treats including crackers, chips, nuts and perhaps some chocolate. If they want to settle in to read a book or watch a little television, they have something to nibble on instead of having to go to the kitchen to look for food. They may even be too embarrassed to go to the kitchen in the middle of the night for a snack, so some treats can go a long way.
You can add a note reminding them that there is a basket of tea and coffee items in the kitchen, and that they should feel free to help themselves! Make sure it's clear and obvious where the basket is and check it regularly while your guests are in your home to make sure it's well-stocked.
Accommodating younger guests
Visiting someone else's house can be a little scary—staying overnight even more so! Make sure that even your youngest guest feels welcome with a few treats just for them: some bubble bath, a rubber duck, a coloring book and some pencils could do the trick! If you plan on accommodating a family with a baby, you may want to have a few extra essentials on hand: extra towels, unscented baby wipes, baby soap, and a baby friendly toy. The parents will definitely appreciate the thought!
Entertainment time
Set up the television with a channel guide and instructions for turning on the extras, like Netflix, as well as how to operate the DVD player, if you have one. Leave them a selection of DVDs to choose from!
You could also include a selection of books and magazines, in case they're looking for something to read at the end of the evening. Include some local publications, if they're not from the area, including the local or community newspaper.
This is not a sponsored post. Tips and copy courtesy of Sophie Kaemmerle, Communications Manager at NeighborWho.