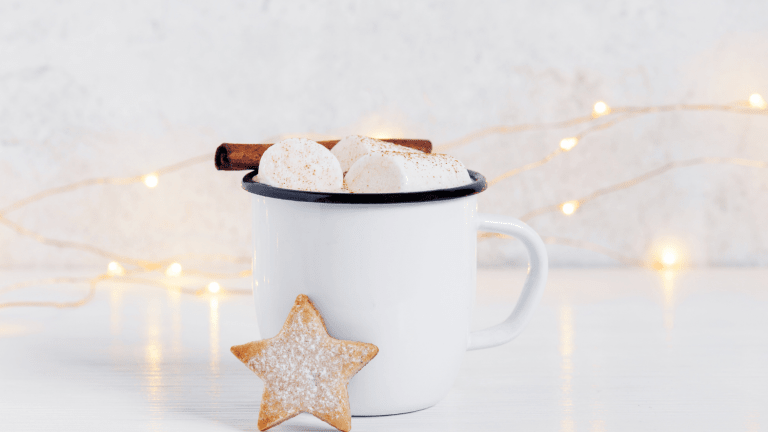 Delicious Hot Chocolate Ideas for Winter
Here are a month's worth of ideas on how to enjoy chocolate milk this winter!
When it gets cold out I love to seek refuge with a hot chocolate. Even before I had kids this was always my hot beverage of choice. Now that I have kids, I love to try new ideas so I was thrilled to learn that December is devoted to chocolate milk and hot chocolate throughout the month. 
Related: Easy sugar cookies for the holidays
31 Delicious Hot Chocolate Ideas for Winter
Here are a month's worth of ideas on how to enjoy chocolate milk this winter!

Stir in a peppermint stick for a classic, holiday flavor. Then, rim the mug with crushed peppermints.
Mom and dad can make their minty hot chocolate with a splash of white creme de menthe. Oh yeah.
Add a splash of coconut syrup or extract, and top with toasted coconut marshmallows.
Drop in a mini peanut butter cup or two. Stir well and enjoy.
If mom needs a little boost of energy for shopping, add a half teaspoon of coffee crystals (use decaf for the little ones).
Add marshmallows as you're heating the milk and let them totally dissolve for a thick, gooey treat. Float a few more on top.
Still have Halloween candy hanging around? Drop a mini bar (one without nuts) and let it melt into deliciousness.
Cinnamon sticks are always handy this time of year. Infuse your hot chocolate with a stick or two.
Simply heat up some white chocolate milk, it's available in shelf safe cartons.
Keep a can of real whipped topping in the fridge. A little squirt makes the hot chocolate extra special.
Allow your cocoa to cool and pour over ice for a refreshing drink of a warmer day.
Add colored sprinkles on whipped cream topping for a festive hot chocolate.
Steep with orange peels (none of the white pith) for a few extra minutes for a deliciously different flavor.
For a "moms only" hot chocolate, sneak in a shot of Kahlua--then take a moment to de-stress.
Kids like hazelnut almost as much as peanut butter. Stir in a spoonful of the chocolate-hazelnut spread.
A half teaspoon of vanilla extract gives your hot chocolate a homemade, comfort-y taste.
Try the un-chocolate hot milk. Just warm some milk and flavor with honey and cinnamon.
The syrups sold at coffee shops are delicious in hot chocolate. Experiment with flavors like raspberry or cherry.
Puree a half banana for each cup and stir into the hot chocolate. Garnish with a bit of whipped cream and banana chip.
Chai spices are perfect for December. Drop a decaf chai tea bag into the hot chocolate for a few seconds.
Kids love malts, so make a malted hot chocolate. Super easy, just stir in a few malt ball candies!
Stir in some old fashioned molasses. It's surprisingly delicious.
What, no marshmallows in the pantry? Open a jar of marshmallow cream, it makes a yummy topping for hot chocolate.
To get a super rich hot chocolate, add a square of dark chocolate. Think of it as just adding a few more antioxidants!
While adults are drinking hot toddies, make hot toffees for the kids, stir some butterscotch chips into hot milk.
What's in your spice cabinet? Experiment with extracts, like almond or anise. Or cloves, star anise or nutmeg.
Start with strawberry flavored milk and add a scoop of dark cocoa. Tasty!
Mix up our Amaretto hot cocoa gift jars to give.
For the red wine lovers, try our red wine hot chocolate recipe.
Allow cocoa to cool, add a scoop of ice cream and toss in the blender for a cocoa smoothie.
MORE HOLIDAYS FROM MOMTRENDS
PIN IT!
Use Pinterest to save your favorite gift ideas. Be sure to follow our Holiday Recipes and Crafts board here.
Momtrends was not paid for this post. We were given samples.