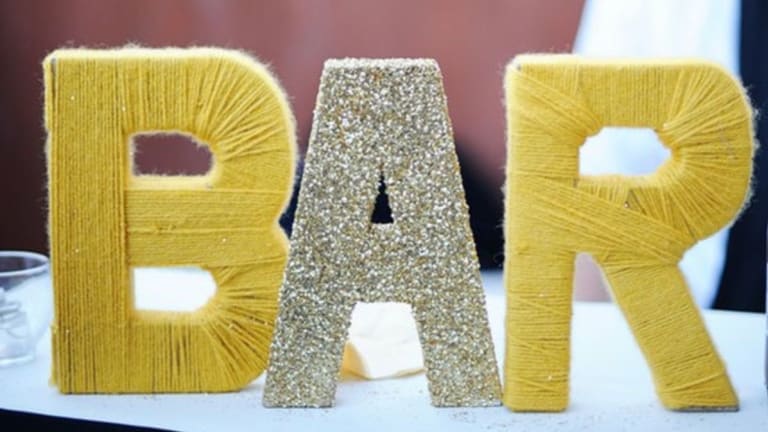 Home Edit You Need a Bar Cart
Five of our favorite bar carts and tips for outfitting you home to be cocktail chic.
We made it!Yes kids, we made it through the first holiday of the holiday season. Technically yes, Halloween is a holiday but it's not one of the BIG holidays. In my household, Halloween usually entails sitting around with a bottle of wine, shooing teenagers with pillowcase candy bags off of my front porch and making sure to sneaking extra candy to the kids with really cute costumes (hello'?¦ three year old dressed like a tiger? Waaay cute!)
Related: Holiday mulled wine recipe
Anyway, around these parts Thanksgiving is the first of the major holidays simply because we are required by law to visit both of our families over a three day period even though they are distanced by nearly 300 miles of mountain and farmland. Sometimes a French Gimlet is just what the doctor ordered to take the edge off of that family dinner. And just in case, a French Gimlet is two parts Vodka or Gin, one part St. Germaine, and a half part lime juice. Shake. Pour. Guzzle.
You know you're making one right now.
Five of our favorite bar carts right now
Suffice it to say, the holiday season only stresses the importance of a well stocked bar. In the home of a designer (I mean me), it has to look pretty too. Actually, the word pretty oversimplifies the premise behind my bar. I have two rules liquor in ugly bottles get poured into decanters. Hold up. That's only one rule.
So because I love you I'm going to give you a little early Holiday present. I'm rounding up a few of my favorite bar carts. Go ahead and treat yourself this season.
Industrial Bar Cart
I love supporting small businesses and Etsy is usually where I start my hunts. A combination of a steel frame and particleboard for intrinsic power, and a mix of matte black and rustic brown for a note of delicacy. And it's under $100. What's not to love?
Rounded Wood Bar Cart
I love the boho chic vibes of this hand-wrapped rattan frame. The three levels offer plenty of storage space. The light wood makes this a perfect addition to any mid-century decor.
Get it on West Elm here ($1149).
Marble Bar Cart
This mini cart is full of class. I love the sleek combo of gold and marble bar. The round bar cart's slender steel base supports a swath of white marble up top and glass shelves below for three levels of service. Stash cocktail napkins on the bottom shelf and store bottles and beverages in the middle. 
Get it on Pottery Barn here ($399)
Round Bar Cart
I was drawn to the cool round shape of this one. Roll it in with the attached handles and set up for happy hour. 
Get the Kiven Bar Cart on Wayfair ($152)
Wooden Bar Cart
If you want a warmer look, try this wooden one. The kitchen serving cart is designed with a spacious and fenced bottom shelf to hold your wine and snacks. Comes with 2 glass hooks and a wine rack for 4 bottles which holds your wine horizontally and keeps it fresh.
Just a few of the secrets I use for keeping my own bar.
Treat bottles of liquor like art. I love the deco lines of the French St. Germaine, the wax drippings of Makers Mark, the Italian text of a bottle of Aperol. Display them proudly.
Decanters are a girl's best friend. Decanters can be used to hide that embarrassing bottle of rum that you die for but are embarrassed to keep in public eye. They're also great for banishing stained, dirty bottles. And for me, they are another reason to buy awesome pieces of gorge barware!
Vintage baby. I'm a flea market whore (can I use that word on this site?). One of my market passions? Vintage barware. I can't get enough of the 60's shakers with animated recipes printed on their thick glass sides. Dorothy Thorpe glassware. Plastic stir sticks from Las Vegas casinos since destroyed. 
Kitsch. There, I said it. Kitsch. A little story. My decanter of Irish whiskey wears a fur hat. It's a miniature hat, an ornament from Mt. Rushmore, but a fur hat nonetheless. Everyone loves it. Mix in a little bit of something crazy. Something that says a little about you.
Function. It isn't a word used exclusively by Dyson to sell vacuums. A great bar should be functional above all. If you have an ice bucket, make sure you have ice tongs. Have the liquor for a martini? Please make sure you have a shaker with a lid.
Home sweet Home. A bar deserves a proper home. Mind you this could be as simple as a great lacquered tray on a side table or as complex as a piece of furniture outfitted with all the bells and whistles. Or if you're like me and like your drinks to come to you, a trolley.
MORE DESIGN TIPS FROM MOMTRENDS
PIN IT!
Need more ideas on what to do with the kids? Be sure to follow our Organization board on Pinterest here.
Brandon Smith is principal of the San Diego based spatial design company D.Coop. Momtrends was not paid for this post.