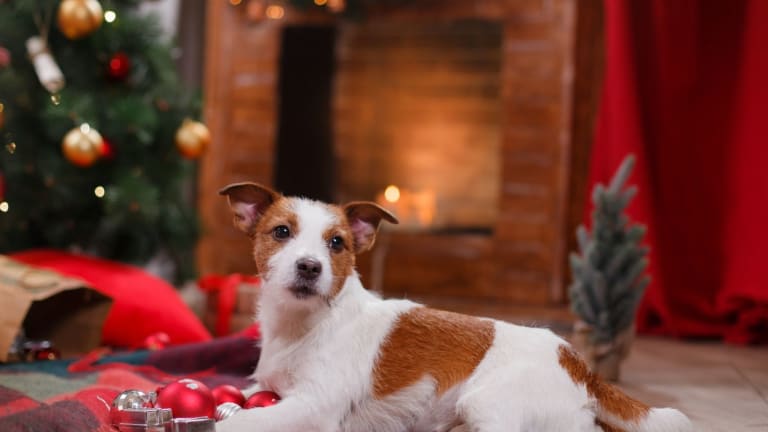 Holiday Safety Tips for Dogs and Puppies
Don't Feed Your Dog Bones and More Tips to Keep Your Dog Safe this Holiday Season
The holidays are here are we are spending more time at home with our pets. While it's great to celebrate (and even put them in outfits with reindeer antlers), it's also important to keep your furry friends safe. I reached our friends at the Veterinary Emergency and Referral Group, to get holiday safety tips for dogs and puppies. 
Related: Holiday gifts for dogs and the humans who love them
I have a new puppy in the house and he is into everything. I've been researching foods that can make him sick and trying to keep up with his training to keep him out our harm, but I'm aware that during the holidays my house is full of potential household dangers to pets.
"We want everyone to have a safe and happy Thanksgiving, and we also want them to remember that the holidays present a plethora of dangers to our furry family members," said Dr. Brett Levitzke, medical director of VERG.
Holiday Safety Tips for Dogs and Puppies
Limit table food. It's generally a good idea to ask family members and guests not to feed pets table scraps during meals or gatherings. First there could be small bones or dangerous food passed along and second, begging is a horrible habit and hard to break.
No fatty foods. Food, which is high in fat or contains a lot of butter, like gravy, can cause pancreatitis. Symptoms of pancreatitis include vomiting, fever, lethargy diarrhea and a decreased appetite. If caught and treated early and aggressively, most dogs recover without long-term issues. However, if left untreated, more serious consequences can result and even death can occur.
Pet Proof Your Decorations. Keep decorations out of the pet's reach, including candles, extension cords and foldable furniture.
Green Your Home Safely. Be cognizant of what is inside of floral arrangements as many plants commonly found in holiday arrangements like holly, mistletoe, amaryllis and lilies can be toxic to cats or dogs.
No bones about it. Don't allow pets to chew on any leftover bones. While any bone can become a choking hazard, cooked bones are even more dangerous, as they can splinter and perforate the intestines.
No licking baking bowls. Don't share raw dough or batter that includes raw eggs, dairy or yeast with pets. Besides potentially causing an upset stomach, pets are also susceptible to salmonella just like people.
Ban these dangerous foods. Beware of other toxic ingredients like chocolate, avocados, onions, garlic, raisins, macadamia nuts and grapes, which are harmful for pets, even in small amounts.
Watch for runaways. Any time you are planning to have guests or family over, ask them to be mindful of doors, ensuring they remain closed. Also make sure pets are microchipped. Veterinarians typically see an uptick in pets running away or being hit by cars during the holidays.
"Even with family gatherings expected to be limited this year, we still need to be mindful of the risk associated with our pets during celebrations, including Thanksgiving. It is common for guests to share their table scraps with pets, however they don't realize the potential dangers this can lead to," said Levitzke. "Pets need a steady, consistent diet and their digestive systems cannot process these foods the same as humans. Like most veterinary hospitals, we typically see a significant uptick in patients with digestion related emergencies around the holidays."
I hope these tips help keep your pet safe and healthy this holiday. 
MORE PUPPY LOVE FROM MOMTRENDS
PIN IT!
Use Pinterest to save your favorite pet tips and be sure to follow our Puppy Love board here.