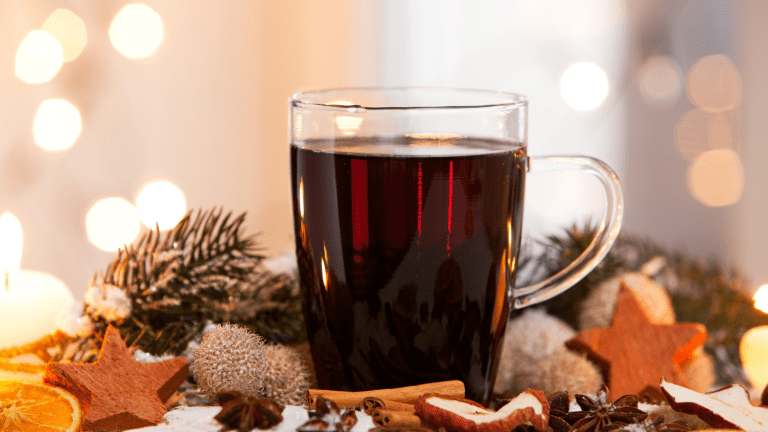 Normally, I don't like things in my wine. Thanks-but-no-thanks, sangria - you can keep you fruit out of my glass of vino. But somehow the combination of wine and warmth and spices and citrus in this mulled wine makes it just perfect for cold winter nights this time of year. Whether you are hosting a holiday party or caroling, looking at lights around your neighborhood or just cuddled up with a good book by a fire, this holiday mulled wine will hit the spot.
Related: Red wine hot chocolate
Consider this a base recipe that you can adjust as you like. I like to add star anise for its flavor and look. I'll leave out the cardamon if it's not handy.
Holiday Mulled Wine Ingredients
2 medium lemons
2 medium oranges
10 whole cloves
5 cardamom pods
1 1/4 cups granulated sugar
1 1/4 cups water
2 (3-inch) cinnamon sticks
2 (750-milliliter) bottles dry red wine, such as Cabernet Sauvignon or Beaujolais Nouveau
1/2 cup brandy
Cheesecloth (you can make it without putting the ingredients in cheesecloth too - you'll just have to strain them out at the end)
Butcher's twine
Holiday Mulled Wine Directions
Using a vegetable peeler, remove the zest from the lemons and oranges in wide strips, avoiding the white pith; place the zest in a large saucepan. Juice the lemons and oranges and add the juice to the pan. Place the cloves and cardamom in a small piece of cheesecloth, tie it tightly with butcher's twine, and add the bundle to the saucepan.
Add the sugar, water, and cinnamon sticks, place the pan over high heat, and bring to a simmer, stirring to dissolve the sugar. Reduce the heat to low and continue to simmer, stirring occasionally, until the mixture is reduced by about one-third, about 20 minutes.
Add the red wine and brandy, stir to combine, and bring just to a simmer (don't let it boil). Remove from the heat and remove and discard the spice bundle before serving.
If you want a less boozy option, try out this mulled wine recipe from Ina Garten. She leaves out the brandy and pairs the wine with nearly equal parts apple cider.
Cheers!
MORE FAVORITE HOLIDAY DRINKS
PIN IT!
Use Pinterest to save your favorite gift ideas. Be sure to follow our Holiday Recipes and Crafts board here.
Momtrends was not paid for this post.