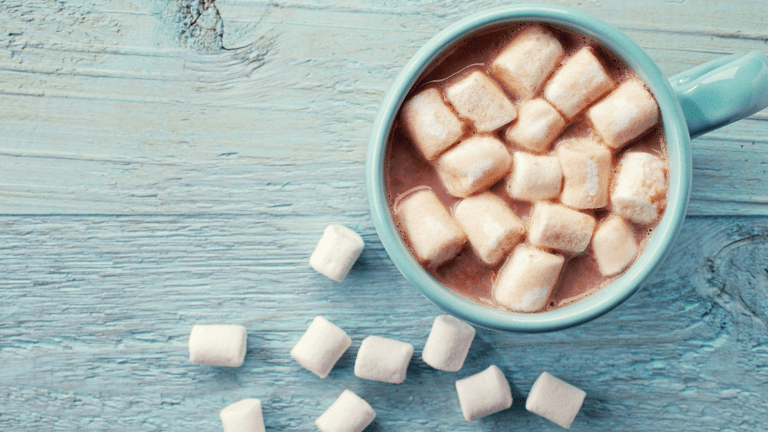 Holiday Hot Cocoa Variations
In celebration of National Hot Cocoa Day, we're sharing six of our favorite hot cocoa recipes.
Between the cold weather, holiday music on repeat, and all the lights and decorations, I swear that every morning feels like a morning worthy of hot cocoa with the kids! Today, in celebration of National Hot Cocoa Day, we're sharing some of our favorite hot cocoa recipes - a basic (but oh-so-decadent) recipe that we invented plus four other variations  and a BONUS to mix it up a bit. 
Related: 31 hot chocolate ideas for winter
First, let's start off with a pretty basic hot cocoa recipe if you're not feeling too adventurous. We came up with this hot chocolate recipe that is decadent, delicious and made with dark chocolate - my fav!
European-Style Hot Cocoa
Ingredients
3/4 cup milk
1.5 cups heavy cream
1 large dark chocolate Hershey's bar (4.25 oz)
vanilla - 1 tsp
spices as desired: nutmeg, cinnamon, cayenne etc
salt - dash
European-Style Hot Cocoa Direction
Chop your Hershey's bar into small shavings.
In a saucepan over medium-low, heat your milk and chocolate pieces. *Do not boil*
Whisk your heavy cream (or use a stand mixer) until thickened slightly.
Add in your vanilla, salt and spices to your chocolate mixture.
Whisk the thickened cream into your chocolate mixture. (Leaving a little for topping) Heat through *Do not boil*
Ladle into mugs and enjoy!
Ready to mix it up a bit? Try these hot cocoa variations for a little something different!
Add Some Spice: Mexican-Style Hot Chocolate
Looking for a little extra spice? I love the added heat and spice that Mexican hot cocoa has. This recipe relies on chopped up Mexican chocolate and a cinnamon stick for added spice.
Make It Minty: Peppermint Hot Chocolate
'Tis the season for mini candy canes! Put those red and white treats to good use in this festive peppermint hot chocolate that uses peppermint extract and candy canes to make it minty.
Chilled-Out Hot Cocoa: Cookies & Cream Frozen Hot Chocolate
Who said hot chocolate had to actually be hot? This frozen hot cocoa from A Beautiful Mess is pretty much a milkshake but doesn't require that you have ice cream on hand. It does require a cookies and cream chocolate bar though you might be able to get creative with a regular chocolate bar and some Oreos too. A fun way to shake up traditional hot chocolate.
Adult-Only: Aztec Slugger
This variation is only for the over 21 crowd. Hot chocolate. Coffee. Bourbon. Oh my! Just opt for decaf in this Aztec Slugger if you're having this after 4pm. And take the advice of some of the reviewers and cut the booze in half. You want this adult hot cocoa to warm you up - not knock you out.
BONUS Best Topping Ever: Marshmallow Whipped Cream
Do you ever have the debate with your kids (or yourself) - do I top my hot chocolate with whipped cream or marshmallows? Now, you don't have to choose. This decadent hot cocoa topper combines homemade whipped cream WITH mini marshmallows folded in. It's practically a present in a cup.
MORE HOLIDAYS FROM MOMTRENDS
PIN IT!
Use Pinterest to save your favorite gift ideas. Be sure to follow our Holiday Recipes and Crafts board here.
Momtrends was not paid for this post.