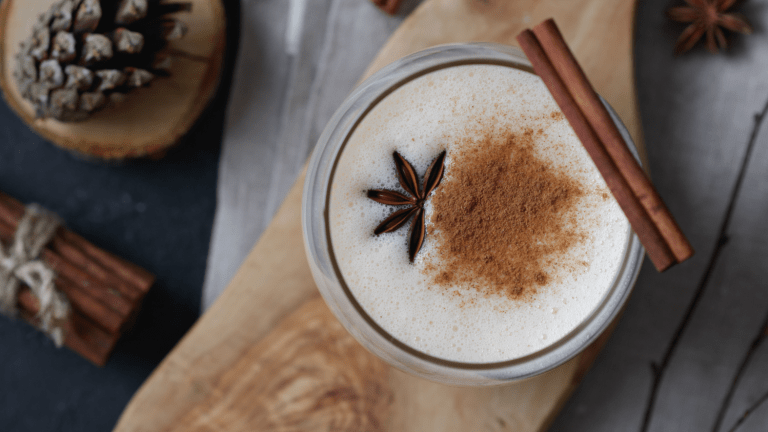 Publish date:
Holiday Hot Apple Cider Nog
This holiday season skip the traditional eggnog and serve up a batch of this hot apple cider nog.
This holiday season skip the traditional eggnog and serve up a batch of this hot apple cider nog.
Looking for something a little different to serve this holiday season? Skip the traditional eggnog and instead serve up a batch of this hot apple cider nog - all the creamy goodness that you love of eggnog but with the added sweetness and seasonal touch of hot apple cider. Mmmmmm....
Related: Boozy salted caramel apple cocktail
This is practically dessert in a cup and perfect for a cold evening get-together. If needed, you can make this nog non-alcoholic for kids or other non-drinkers by leaving out the bourbon. Otherwise, leave it in for how the bourbon balances the sweetness of the cider and adds to the warm-belly feeling.
Holiday Hot Apple Cider Nog Ingredients
2 cups half-and-half
1 cup milk
1 cup apple cider
2 large eggs
1/2 cup sugar
1/4 teaspoon ground cinnamon
1/8 teaspoon ground nutmeg
1/8 teaspoon salt
1/2 cup bourbon (optional)
1/2 cup whipping cream, whipped
Optional garnishes - cinnamon sticks, apple slices, freshly grated nutmeg
Holiday Hot Apple Cider Nog Directions
Whisk together first 8 ingredients (half-and-half through salt) in a large heavy saucepan.
Cook over medium-low heat, whisking occasionally, until mixture thickens and coats a spoon (about 15 minutes).
Stir in bourbon, if desired. Top each serving with whipped cream. Garnish, if desired. Makes about 5 cups.

The Ten Best Wooden Play Kitchens For Kids
Cooking is a timeless fascination for children. This type of play goes beyond gender and teaches kids loads of life skills along the way. An investment in a play kitchen is money well spent, as it can provide hours of entertainment. We've rounded up the ten best wooden play ...read more
New Victory Announces a New Season of Shows
We know you're busy planning picnics and summer outings, but we wanted to let you know that The New Victory just announced their new season and it looks fantastic. We thought you'd like a sneak peek of what's in store! Each year the New Vic theater brings culture to tourists and ...read more
Fun Ways to Discover Venice Italy with Your Family
Greetings from Italy wear the gelato is rich, the clothes divine and the scenery is inspiring. Now that I've been to this fine city in the north of Italy, twice, I've amassed a list of favorites to share. These are some fun ways to discover Venice, Italy with your family. ...read more
Don't these look so tasty?? I mean, that one in the Moscow mule mug...#allthehearteyes
Have leftover apple cider? Check out this post of other delicious ways to use up the rest of the bottle.
Cheers!
MORE FALL RECIPES FROM MOMTRENDS
PIN IT!
Use Pinterest to save your favorite recipes ideas. Be sure to follow our Apples board here.
Momtrends was not paid for this post. Original recipe here. Photo collage featuring Southern Living, How Sweet Eats, and Southern Living.