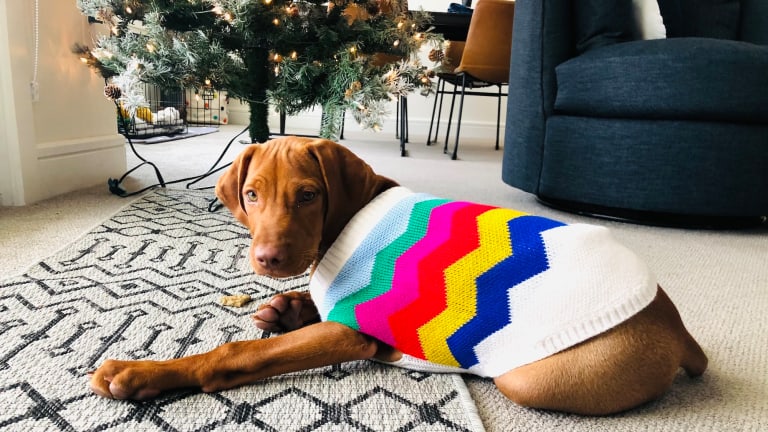 Holiday Gifts for Dogs and the Humans who Love Them
The best gifts for all the COVID puppies out there and treats for dogs who were around long before the pandemic.
I'm so grateful for my puppy. We put our order in for Kingsley back in December 2019, little did we know he would end up being a kind of therapy dog for our family. Pets bring so much joy into the home, now is the time to spoil them with some new treats. We've rounded up a few of our favorites for your fuzzy, furry friends. 
Wisdom Panel™ Premium
Dig into your dog's ancestry with this fun DNA test. Trace your dog's ancestry back to their great-grandparents. Developed by world-leading geneticists and most-used by veterinarians, Wisdom Panel Premium offers the most comprehensive dog DNA test on the market. Screen for genetic conditions related to drug sensitivities, vision, weight, mobility, and more with 200+ health tests.  Owners can test for 350+ breeds, types, and varieties—more than any other dog DNA test available. You'll get specific breed identity down to 1%.  Understand coat and eye color, ideal weight range, and more with 35+ trait tests
Premium Exclusive: Schedule a free phone call with one of our licensed veterinarians to discuss any notable health findings. ($159.99)
Get Wisdom Panel™ Premium here
Whistle GO Explore
Whistle is the perfect gift for dog lovers this holiday season. These top-rated pet wearables are paving the way for pet parents to understand their dog's fitness, health, safety, and wellbeing for unparalleled peace of mind.  Through health monitoring features that track and analyze your pet's licking, scratching, drinking, and nighttime sleep week over week, you can catch potential health issues before they become a problem and send a 30-day summary directly to your vet via email. Within the app, you can Chat with a Vet, and set fitness goals based on your pet's breed, age, and weight, while earning badges for milestones.
The Whistle GO Explore device provides real-time tracking and escape alerts so you always know where your pup is at. The device is waterproof rated IPX 8, features a 3-mode built-in night light, and has up to a 20-day battery. ($129.99)
Rifle Paper Poop Bag Holder
A beautiful poop bag holder makes chic happen when poop happens. Featuring an earthy pattern of dark green monstera leaves designed by Rifle Paper Co. and screenprinted in Japan. $24
Get your glam poop bag holder here.
Holiday Sloth Toy
This sweet Christmas Sloth Dog Toy is just chillin' for the holidays and waiting to play with your pup. This happy guy is just hanging on a festive Christmas tree waiting to brighten your day. He even has two fun squeakers inside for added entertainment! Please supervise your pet during playtime. While this sloth is made for some serious holiday fun, it is still a plush toy and therefore not indestructible - no plush toy can be. ($14)
Get your holiday sloth toy at Muttropolis here.
Moderna Dog Crate
Upgrade your pet's "home" with a chic new crate. Who said crates have to be boring? Keep your pup safe in the ultimate style with the Moderno Dog Crate. We adore this architectural piece that will bring life to any room. This sleek and sophisticated crate is a place your pup can truly call home. Clean lines and contemporary cabinetry finish are accented with brushed stainless steel bars. Featuring a convenient two door opening with stainless steel hardware. ($599) The crate mattress pictured is sold separately.
Get the Moderna Crate on Muttropolis here.
Blue Diamond Beaded Leather Dog Collar
This luxe collar is handmade by artisan women in Brazil. Your pup will truly shine in the vibrant colors and sun reflecting beads! This gorgeous collar uses full grain leather, the most durable leather treated with organic beeswax making it suitable for indoor and outdoor activities. Each bead is made of unbreakable glass and stitched one by one following the ancient Brazilian tradition of "tear beading" to make the stitching indestructible. Using this stitching method allows for resistance to scratching and you can be assured that beads will not fall off. Not only will your pup be the most stylish in town, your purchase also saves dog lives while financially empowering skilled artisan women! 10% of profits go to no-kill shelters in the USA while the remaining profits provide sustainable development and empowerment of artisan women from the community of Araxa in Minas Gerais, Brazil. ($79)
Get this gorgeous collar on Muttropolis here.
Red Check Holiday Bandana
We found this Flannel Buffalo plaid Dog bandana on etsy. It feels good to support small businesses as you dress your pup in style. $8
Get the bandana on etsy from BiscuitsBandanaCo here  
Pet Food Can Cover
Skip the ratty plastic covers on your canned food and opt for these reusable items. Multicolor pet food can covers have three different size rings for fit most standard size canned dog cat food, such as 3 oz, 5.5 oz, 12.5 oz, 13 oz and 13.2 oz cans. Made of 100% Premium Silicone at food grade, BPA free, safe and healthy, can contact food directly. Keep pet food fresh and delicious. They are dishwasher safe making them so easy to clean. For older pet owners, they are a joy, as they are easy to put on and take off and have a convenient pull tab for removal. ($7.99 for 4)
Get your can covers on Amazon here.
Boden Chevron Dog Sweater
This cheerful dog jumper is designed to keep your four-legged friend warm and everyone else smiling. Knitted from hardwearing yarn, it features a rainbow-colored chevron pattern that's certain to get a bark of approval. Human companions can accessorize with a matching hat and scarf. 100% acrylic. $60
Get your dog sweater from Boden here.
Bark Box Subscription
Monthly dog joy is just a click away. Every BarkBox has 2 innovative toys, 2 all-natural bags of treats, and a chew, curated from each month's unique themed collection. Subscribe, starting at $23/box (valued at over $40). FREE SHIPPING inside the contiguous 48 United States. They'll never look at a cardboard box the same way again. 
Get your Bark Box subscription here.
Nikita Dog Coat Skhoop
We're dog lovers here and SKHOOP and believe that our four-legged friend are also worthy of good clothes! Our new dog coat matches our own skirts, jackets and vests in both materials and colors. This coat has a collar that protects the dog's neck from both cold and rain. The front covers the dog's stomach and is easily attached around the dog's middle with Velcro. The jacket is lined with warm comfortable fleece. Reflective details on both sides of the jacket give your dog the best fall look. ($79)
Get the Nikita dog coat on Skhoop here.
PoyPet No Pull Dog Harness
This no-choke front lead harness is a helpful tool with training an energetic dog. I love that it's reflective and padded for my dog's comfort. Pick from a dozen colors and 4 adjustable sizes. ($21.99)
Get your no-pull pet harness on Amazon here.
WIN IT!
We've got an awesome gift bundle worth over $250 to share with you from a few of our sponsors. One lucky winner will get the following:
Whistle GO Explore (value $129.99)

Wisdom Panel™ Premium (value $159.99)
MORE GIFT HELP FROM MOMTRENDS
MORE FROM MOMTRENDS FOR THE HOLIDAYS
PIN IT!
Use Pinterest to save your favorite gift ideas. Be sure to follow our Holiday Recipes and Crafts board here.
The Holiday Gifts Guides are a mix of sponsored picks and Editor's picks, this post is loaded with affiliate links. When you purchase with our links, you support Momtrends.