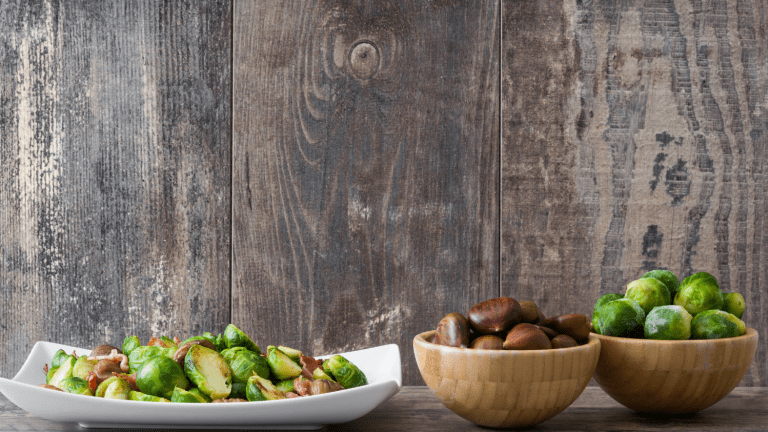 Publish date:
Holiday Favorite Recipe Brussels Sprouts with Chestnuts
This Brussels sprouts side dish is a classic that's taken up a notch thanks to broth and chestnuts.
This Brussels sprouts side dish is a classic that's taken up a notch thanks to broth and chestnuts.
The holidays are about family, food and friends. They are also about giving and sharing. People are very particular about recipes and hesitant to try new things. This side dish is a classic that's taken up a notch thanks to broth. When you try our holiday favorite recipe for Brussels sprouts with chestnuts, it will become a family favorite.
Related: How to get ultra creamy mashed potatoes
Brussels Sprouts with Chestnuts Recipe
Serves 6-8
Ingredients
2 lbs. Brussels sprouts, quartered
1 lb. chestnuts, peeled(or pre-peeled)
1/4 lb. smoked bacon, diced
1 each yellow onion, diced
2 each Granny Smith apples, peeled, cored and diced
1 1/4 cup Swanson Unsalted Chicken Stock
splash of red wine vinegar
4 tbsp. granulated sugar
ground black pepper, to taste
Brussels Sprouts with Chestnuts Preparation methods
If using pre-peeled chestnuts omit this step

5 Pretty Ways To Organize Your Jewelry
I admit - I'm guilt. Despite my best efforts, my "jewelry drawer" has become a tangled mess of necklaces, bracelets and earrings. This cluttered collection not only makes it hard to see what I have, but difficult to untangle the pieces I do want to wear! This summer, I'm ...read more
This Year's Coolest Jumbo Pool Floats
Pool season is almost here! I can't wait to relax, read a book, and sip a cocktail while lazily drifting in an oversized float. (Just kidding, I have two toddlers--but a swim mama can dream, right?). If you've got a staycation planned, check out this year's coolest jumbo pool ...read more
Crystal Clear and Pristine: Pool-Cleaning Tips
Tropical Storm Isaiah gave us quite the midsummer surprise here in the suburbs of New York City. We just got our power back on after a whole week of darkness! With trees down, debris everywhere, and lots of uncertainty, one thing we forgot to check on: our above ground Intex ...read more
Bring a large pot of water to a boil. 
Use a paring knife or a chestnut knife to cut a large X into the shell of each chestnut on one side. 
Drop chestnuts a handful at a time into the boiling water, boil for 5 minutes, and remove from water. 
Immediately remove and discard shells, keeping chestnuts whole if possible. 
Set peeled chestnuts aside.
Once you've got your chestnuts it's time to make the veggies.
Heat a large sauté pan over medium-high heat, add bacon and cook until crispy. 
Remove bacon from pan leaving the rendered fat in pan. 
Add Brussels sprouts; season with pepper, cook stirring occasionally until golden, about 10-12 minutes. 
Add the onions and apples; continue to sauté for an additional 4-5 minutes or until apples begin to soften. 
Add chestnuts, stock, and sugar, cover and simmer for 20 to 25 minutes or until chestnuts are tender.
Remove cover from pan, cook, stirring occasionally, until liquid has been reduced about 4 to 5 minutes. 
Transfer to a serving dish, top with rendered bacon and serve.
TO HELP YOU PREPARE FOR THANKSGIVING CHECK OUT OUR FAVORITE POSTS:
PIN IT!
Use Pinterest to save your favorite crafts. Be sure to follow our Thanksgiving and Halloween Crafts Board.
Momtrends was not paid for this post.