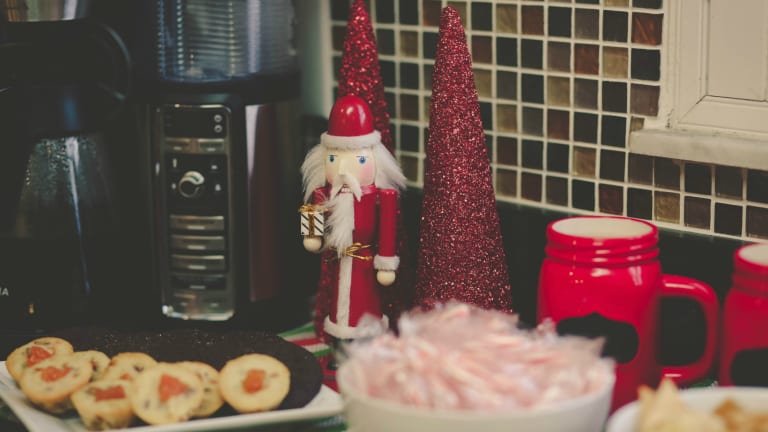 Publish date:
The Best Holiday Coffee Ideas
Coffee fans rejoice. These holiday coffee ideas are sure to perk up your season!
Coffee fans rejoice. These holiday coffee ideas are sure to perk up your season!
There is one thing I love almost as much, if not more than the holiday season...And that thing is COFFEE! I'm talking coffee drinks, coffee bars and even just a good old fashioned black cuppa Joe. I love it all. There is nothing quite like the feeling of holding a steaming cup of coffee on a chilly winter day. You'll really find me in my element when I'm strolling around my favorite shopping center, red cup in hand, while I hunt for special surprises for loved ones. But the holiday coffee fun doesn't have to end there. There are plenty of ways you can insert the holidays into your java at home. So, let's talk about the BEST holiday coffee ideas that you can use to amp up your holiday celebrating!
Holiday coffee bar...As holiday coffee ideas go, this is one of my faves! I set one up at the start of the season, that way it's always ready for my family's and guests' enjoyment. Stock up on things like holiday flavored coffee, cookies and candy canes to serve! Also, festive mugs really complete the look.

The Ten Best Wooden Play Kitchens For Kids
Cooking is a timeless fascination for children. This type of play goes beyond gender and teaches kids loads of life skills along the way. An investment in a play kitchen is money well spent, as it can provide hours of entertainment. We've rounded up the ten best wooden play ...read more
New Victory Announces a New Season of Shows
We know you're busy planning picnics and summer outings, but we wanted to let you know that The New Victory just announced their new season and it looks fantastic. We thought you'd like a sneak peek of what's in store! Each year the New Vic theater brings culture to tourists and ...read more
Fun Ways to Discover Venice Italy with Your Family
Greetings from Italy wear the gelato is rich, the clothes divine and the scenery is inspiring. Now that I've been to this fine city in the north of Italy, twice, I've amassed a list of favorites to share. These are some fun ways to discover Venice, Italy with your family. ...read more
Peppermint Latte...Candy canes are a big deal in our house, so we obviously love anything peppermint flavored. I live for peppermint mochas in the same way that I anxiously await the pumpkin spice latte's appearance. So, peppermint lattes are also a tasty treat that I plan on whipping up at home this year. And bonus...This peppermint latte recipe from Take Time for Style is super simple!
Mocha Mint Coffee Cocktail...Coffee doesn't have to be hot, just ask my iced coffee addiction. Haha! And while I may not be downing copious amounts of iced coffee during the holiday season, I am definitely up for coffee favored cocktails! This mocha mint coffee cocktail recipe from Sunny Sweet Days NEEDS to land on your holiday party menu. How's that for a signature cocktail!?
See? Coffee and the holidays totally go hand in hand! So, if you've been looking for the BEST holiday coffee ideas, look no further! None of these, if put into practice, will disappoint! 
We were not paid for this post.