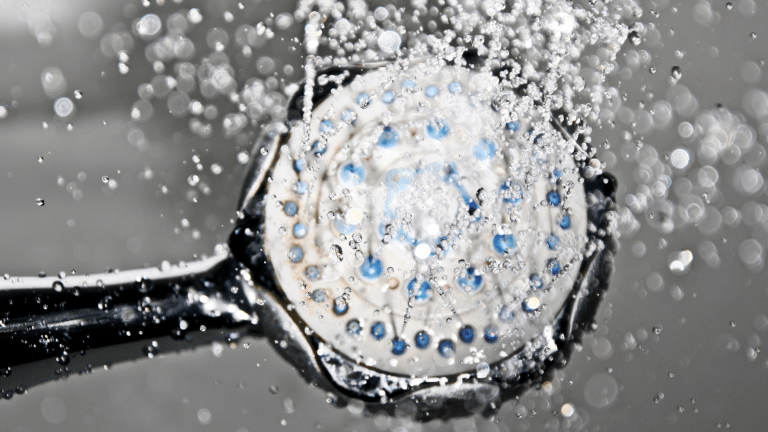 How to Turn Your Shower Into a Spa-Like Oasis
Take a Vacation Without Leaving Your Bathroom
March isn't always forgiving. The days are long and cold, and a seemingly endless winter can lead to cabin fever. You might be itching for an escape--a physical vacation, a mental getaway, a transformative trip. While you can't transport yourself to Hawaii just yet, you can escape the "blahs" if only for a brief (but refreshing) fifteen minutes without abandoning your kids and leaving the house. A little eucalyptus, special body wash, maybe even a wine glass holder will turn bath and shower time into a peaceful retreat for your body, mind, and soul.
Sandra Funk, principal designer at Montclair, NJ's House of Funk, has some aesthetic and sensory tips to help make an everyday experience in your home - your shower - a relaxing space for "me time" and serenity.

No matter how big or small your shower is, Funk's tips can transform a mundane bathroom into an "oasis."
Minty Fresh

Eucalyptus isn't just for koalas. One of Sandra's favorite pre-shower rituals is making ½ eucalyptus oil and ½ water for a soothing minty shower spray. Spritzing a bit of this mixture on the floor and in the shower will help clear your sinuses, all the while smelling like a luxury spa!
Electric Slide
While you're already giving your body a deep clean, why not clean your teeth too? Sandra suggests bringing your electric toothbrush into the shower with you so you can step out feeling fully fresh and revived.
Coming Clean

We all have our favorite body wash- and that's fine. But when it comes to making your shower an oasis, it's important to keep it on hand. Whether it's a drugstore moisturizing gel or a luxury speciality body wash, stock up on your favorite so you're always guaranteed your favorite suds.
Secret to Spotlessness
To keep your shower a place of calm and cleanliness, Sandra recommends a bleach pen to spot-clean areas of the shower after you're finished. It's easy to let dirt build up, but it's easier to clean it on the go and enjoy a sparkling shower every time.
Oils Well That Ends Well
To continue your home spa experience, lock in the moisture with a body oil. Sandra recommends Neutrogena brand, but any body oil with nourishing qualities is sure to leave you feeling silky smooth and satisfied. 
This is not a sponsored post.