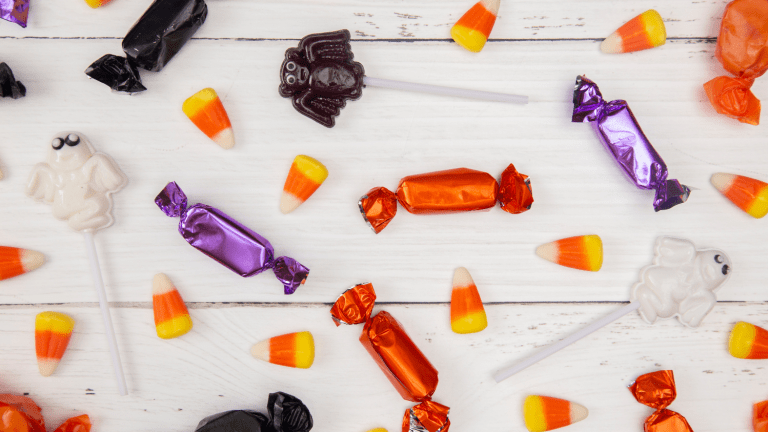 Halloween Candy and Wine Pairings
We're sharing our wine-and-candy pairing guide for some of our favorite Halloween treats—and probably yours too.
Are you looking for Halloween candy and wine pairings?! Look no further! As a parent, you're probably on trick-or-treating duty later—either traipsing around the neighborhood with your kids or handing out candy to all the little ghouls and goblins that come to your door. You're bound to sneak a piece or two or 10 (shh...) throughout the night.
Related: Wine and candy Halloween heaven
Halloween candy and wine pairings
Let's face it you'll probably end the evening eating candy out of your kid's trick-or-treat bag to celebrate surviving another successful Halloween with the kids. It's been said that 90% of parents admit to eating their kid's Halloween candy (according to candyusa.com) and we're definitely a part of that statistic.
We bought all the candy and the costumes. We helped carved the pumpkins (and all the kids kept their fingers!). We struggled through at least one #HalloweenMeltdown thanks to our toddler, and searched for the perfect pumpkin in a muddy, wet pumpkin patch.
We've earned some Halloween candy.
We deserve it.
So, since we're going to eat some Halloween candy, we might as well have some wine with it. Treat yourself! We're sharing our wine-and-candy pairing guide for some of our favorite Halloween treats—and probably yours too. Below are some of our favorite Halloween candy and wine pairings to help your survive this year.
Wine for Candy Corn
Candy corn is a classic Halloween candy. Candy corn is so sweet it needs a dry wine to balance it out. We enjoy candy corn with a big glass of Sauvignon Blanc or Pinot Grigio. The lightness helps balance the sweet candy corn flavor. Try 2014 Dry Creek Vineyard Sauvignon Blanc, Dry Creek Valley - $18.
Wine for Reese's Cups
Reese's cups seems to be an absolute favorite among my friends. Reese's peanut butter cups pairs nicely with a bold red wine like a Cabernet Sauvignon or Pinot Noir. The richness of the tannins in the wines clings to the richness of the peanut butter so every bite is enjoyable. Try 2014 Ironside Cellars California Cabernet Sauvignon - $15.99 with it's warm vanilla and spices.
Wine for Skittles
Skittles pair well with a crisp and slightly sweet wine. We prefer a dry Riesling or a sparkling Moscato if you're feeling fancy.Try the 2004 Max Ferdinand Richter Graacher Dompropst Riesling Kabinett Rhein-Mosel - $26
Wine for KitKat
The malted cookie of the KitKat requires something bright and sweet to balance the flavors. We find KitKat pairs nicely with a pink Pinot Grigio blend. Bring a little citrus to cleanse your palate. Try 2012 Little Black Dress Divalicious Pink with it's effervescent strawberry flavors.
Wine for Snickers
Snickers is a classic with its peanut and caramel flavors. Enjoy some fun sized Snickers bars from the trick-or-treat bag with a big glass of a rich and smooth Merlot or Shiraz. Try NV Mad Housewife Merlot - 29.99, with a hint of berry and vanilla.
Wine for M&M's
M&M's are my go-to candy. They are simple and chocolately and pair nicely with a rich red wine like a Cabernet Sauvignon or Pinot Noir. Try the with some 2012 CMS Columbia Valley - 14.99, with it's dark berry fruits and warm oak flavors.
Cheers to surviving another Halloween holiday season mamas! If you enjoyed our Halloween candy and wine pairings, feel free to share this on social media and help some fellow mamas out!
WANT MORE FROM MOMTRENDS?
PIN IT!
Be sure to follow Momtrends on Pinterest and for more spooky inspiration follow our Halloween and Thanksgiving Boards here.