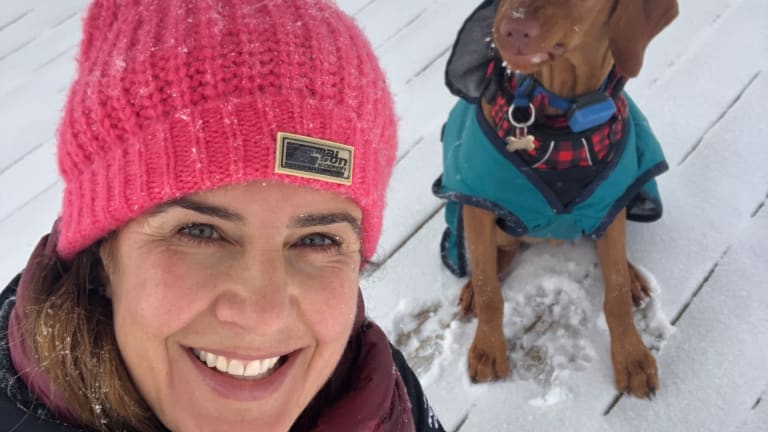 GPS and Wellness Tracker for Dogs
Protect your pet with location tracking plus a health and fitness app all in one little device for your dog.
After a recent scare with our new puppy, I was quickly researching location tracking GPS devices for dogs. In my research, I came across the Whistle GO GPS and wellness tracker for dogs. We've been using the device for a few months now and are very impressed with the technology and the support.
Related: Finding the perfect dog crate
We had a BIG scare just a few weeks after getting our puppy. We live on a mountain here in Vermont and when they hold weddings at the resort, they shoot off fireworks. When our pup heard the fireworks, he took off. My fault for having him off lease fir a second. After 4 hours looking all over the mountain we called off the search and rescue at 1:30am. I was in tears thinking he was gone forever. I tried to sleep waiting for the sun to come up at 6:30 to resume the hunt. 
Clever little man made it home. He appeared scratching at the patio door at 5:30am. Scary for everyone involved. Yes, we are 100% working on training and we do leash him too, but accidents do happen, that's why we are using the Whistle GO system.
Whistle GO 360º Plan
Whistle is a device and tracking software. You initially pay for the device, then you select the tracking plan you want. When you order from Whistle you'll get your Whistle GO Explore Tracker (pick from three colors, 2 collar attachment options, and a USB cable for charing (you'll need to buy the port that plugs in).
Right now the cost is $110.46 for the device and the Whistle 360º Plan.
Getting Started with Whistle GO for your Dog.
After you've selected your tracker online, it will quickly arrive. The box has very easy-to-follow instructions. First, download the app on your phone while you are charging the device. I always recommend a good overnight charge for the first time. The next day, you'll pair the Whistle Go with your app and you are now ready to explore. 
Purchase your tracker
Fully charge the device
Activate the account, by setting up the Whistle app up on your phone
Attach to your pets collar and go have fun.
WHISTLE 360º PLAN
I'm aware of a few doggie GPS devices, this one is cool because in addition to location services, you also get health and fitness monitoring.
First let's talk about finding lost dogs. Whistle GO works with Google Maps. Thanks to this smart technology, it's easy to quickly locate your dog and might just save his/her life. The device uses 4G LTE wireless service via AT&T. You'll be able to quickly pinpoint your dogs location and bring him/her home.
But that's just the GPS service. The health tracking is also really cool. I love seeing how much exercise Kingsley is getting. It keeps us honest as to how much outdoor time he gets every day. This could be super insightful if you hire a dog walker, you'll be able to see where your dog goes and how far he/she walks. The nifty device will also alert you to excessive licking or scratching -- both of these behaviors can result from underlying health conditions. You'll get real time reporting on all your pets activity and wherabouts.
What I Love About Whistle GO
In addition to the security, I love the feedback. Each day, I get Whistle alerts on my phone. And I often swipe onto the app just to see how his day is going. Thanks to the GO and the app, I feel more connected to my dog and feel like I made a savvy investment. 
After your initial purchase, it's $95.40 to monitor a year. In my opinion, this is a terrific investment in pet wellness and safety. I know I feel a lot more secure when Kingsley is out exploring with his Whistle GO on. And remember, this is not a replacement for a leash or training. It's meant to work with the other systems out there to keep your dog happy and safe.
MORE PUPPY LOVE FROM MOMTRENDS
PIN IT!
Use Pinterest to save your favorite pet tips and be sure to follow our Puppy Love board on Momtrends.
Momtrends was not paid for this post.
We were provided a sample to facilitate a review