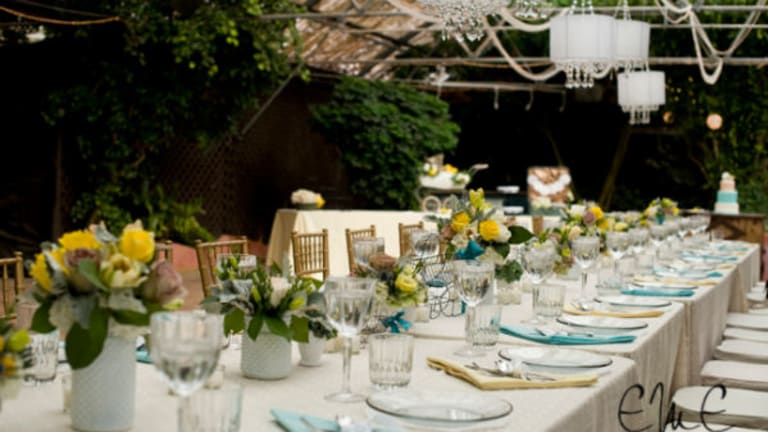 Gorgeous Vintage Meets Modern Baby Shower
Get inspiration for your baby shower by this party that combines a mix of modern and vintage.
I am delighted to share photos of a gorgeous vintage meets modern baby shower. My friend, Kelsey, who happens to be the very talented designer behind Max's birth announcement and first birthday party, is expecting her first child with her husband Eric. Friends and family gathered recently to celebrate mama-to-be and as soon as I saw the photos I knew I wanted to share them. Thanks to Kelsey for allowing us to take a peek into her beautiful baby shower.
Related: Freshly picked baby shower
Vintage Baby Shower Inspiration
Kelsey's mom, a fabulous wedding planner in Phoenix, Arizona, tells us about the baby shower:
Inspiration started with a vintage pram and developed into a modern/vintage theme mixing elements of the modern chevron with the vintage props…hankies…bassinet….old toys…etc. and Kelsey's love of milk glass and vintage pieces. The venue is one of Kelsey's favorites to work at when we do weddings, and the style of the greenhouse went perfectly with the theme. Eric's aunts, cousins, sister-in-law, and mom were also inspired by the theme, and the group effort created a spectacular event.
Vintage Meets Modern Baby Shower
Baby Shower Details
The dad-to-be's aunts were in charge of the cute and clever mimosa, "mom-osa" and juice bar. They also created the favors: mason jars of lemon sugar scrub.
Vendors
Kelsey raved about the generous and amazing vendors who helped create the magical afternoon.
MORE MOMTRENDS FEATURES FOR MOMS-TO-BE
PIN IT!
Be sure to save your favorite gear for baby on Pinterest. Please follow our Gear for Baby and Kid board here.
All photos from EME Photography