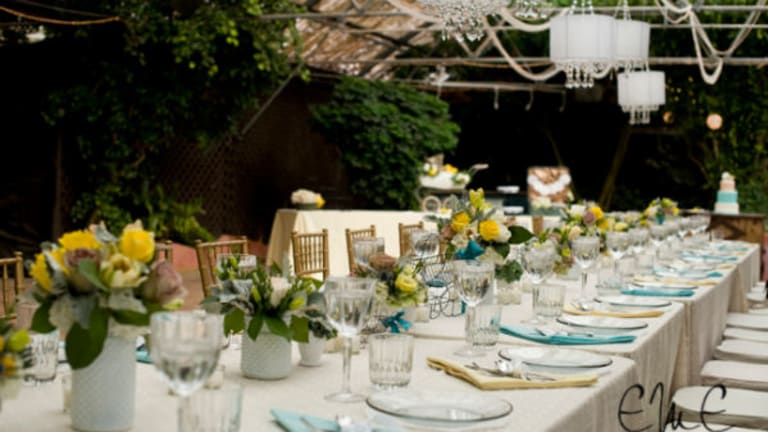 Publish date:
Gorgeous Vintage Meets Modern Baby Shower
Get inspiration for your baby shower by this party that combines a mix of modern and vintage.
Get inspiration for your baby shower by this party that combines a mix of modern and vintage.
I am delighted to share photos of a gorgeous vintage meets modern baby shower. My friend, Kelsey, who happens to be the very talented designer behind Max's birth announcement and first birthday party, is expecting her first child with her husband Eric. Friends and family gathered recently to celebrate mama-to-be and as soon as I saw the photos I knew I wanted to share them. Thanks to Kelsey for allowing us to take a peek into her beautiful baby shower.
Related: Freshly picked baby shower
Vintage Baby Shower Inspiration
Kelsey's mom, a fabulous wedding planner in Phoenix, Arizona, tells us about the baby shower:
Inspiration started with a vintage pram and developed into a modern/vintage theme mixing elements of the modern chevron with the vintage props…hankies…bassinet….old toys…etc. and Kelsey's love of milk glass and vintage pieces. The venue is one of Kelsey's favorites to work at when we do weddings, and the style of the greenhouse went perfectly with the theme. Eric's aunts, cousins, sister-in-law, and mom were also inspired by the theme, and the group effort created a spectacular event.
Vintage Meets Modern Baby Shower

The Ten Best Wooden Play Kitchens For Kids
Cooking is a timeless fascination for children. This type of play goes beyond gender and teaches kids loads of life skills along the way. An investment in a play kitchen is money well spent, as it can provide hours of entertainment. We've rounded up the ten best wooden play ...read more
New Victory Announces a New Season of Shows
We know you're busy planning picnics and summer outings, but we wanted to let you know that The New Victory just announced their new season and it looks fantastic. We thought you'd like a sneak peek of what's in store! Each year the New Vic theater brings culture to tourists and ...read more
Fun Ways to Discover Venice Italy with Your Family
Greetings from Italy wear the gelato is rich, the clothes divine and the scenery is inspiring. Now that I've been to this fine city in the north of Italy, twice, I've amassed a list of favorites to share. These are some fun ways to discover Venice, Italy with your family. ...read more
Baby Shower Details
The dad-to-be's aunts were in charge of the cute and clever mimosa, "mom-osa" and juice bar. They also created the favors: mason jars of lemon sugar scrub.
Vendors
Kelsey raved about the generous and amazing vendors who helped create the magical afternoon.
MORE MOMTRENDS FEATURES FOR MOMS-TO-BE
PIN IT!
Be sure to save your favorite gear for baby on Pinterest. Please follow our Gear for Baby and Kid board here.
All photos from EME Photography