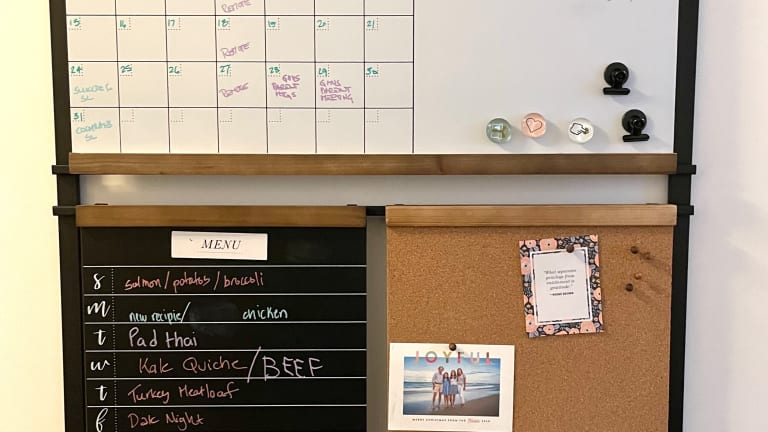 Get Organized this Winter with a Home Command Center
The stylish 1Thrive wall organizers are designed to help your family thrive in a busy complicated world.
This year is all about setting up systems that allow my family to thrive. My girls are both teenagers and executive functions are a big topic of conversation around here. We're talking about setting ourselves up for success, and that's where modeling comes in. My goal is to show them what it looks like to make a plan and how it can actually be fun. Our family goal to get organized this winter is getting a big boost with the new 1Thrive wall organizer. 
Use code LOVEANDTHRIVE to save 10% off your order at 1Thrive
Diving into organization, be sure to check out this post about setting up your family calendar.
Why You Need a Home Command Center
Before we moved to Vermont, I was using a hideous, but highly effective white board to stay on top of the family schedule. It wasn't pretty, but it did the job of communicating the family's hectic day-to-day needs. For a while here in Vermont, things were pretty boring. We were all at home learning and schooling, there was no place to go, and really no need for a calendar. 
Thankfully, life is picking up the pace. The girls are in-person at their school a few days a week and they have ski races on the calendar. With this added complication, I had to come up with a new family hub where we could share and save all this information. 
Check out our video review of 1Thrive
I started researching calendars on Pinterest and found 1Thrive. I loved the look and how I could personalize the wall unit to suit my family. There are nine designed to pick from--I opted for the Brooke ($169) because I loved the versatility of the unit. Check out all the options of 1Thrive here.
With our 1Thrive, you can set your weekly goals, plan your meals, share schedules, identify to-do lists, and inspire your family. The sky is the limit on how you can use your system. 
The key things that make 1Thrive essential family organizational tools are:
It's attractive. It's so pretty makes me want to be a better organizer.
It's customizable. If you want to add a weekly menu, go for it! Love pictures and quotes? Awesome, use the magnets to pin them up. Make this system your own.
It's easy. Thanks to clever hooks and magnetic surfaces everything is easy to display and move around. The markers are vibrant and wipe off easily.
Head here to select the 1Thrive Wall Organization System for your family.
Use code LOVEANDTHRIVE to save 10% off your order at 1Thrive
Setting up your 1Thrive Command Center
I picked the Brooke system and love my selection. It's got everything we need. To hang the unit, we drilled two holes in the wall and quickly hung up the calendar. It's surprisingly light--so don't worry about hanging it up, it's a snap. 
I'm a huge fan of the design. The 1Thrive system is all magnetic and writable. While normal schoolhouse chalk might sound like a great idea, it's actually quite messy. The special 1Thrive markers don't easily rub off on clothing, yet they clean up in a snap! And BOY are the colors vibrant and gorgeous. 
Once it was on the wall, the fun started, I got out my markers and started filling in the blank spaces. It's been a huge help in the first few weeks, and I feel like I am just getting started. 
I'm surprised at how much my family loves the menu feature. Who knew they were so motivated by food!
Tips for Using 1Thrive
As you start to use your system and tweak it to work for your family, you'll find new ways to personalize your set-up. I quickly found the 1Thrive system became the hub of our mornings. My family would check the menu and then calendar. They got the hang of adding grocery requests right on the board and yep, they loved playing with the markers.
I learned a few things along the way that are helpful when you are getting started. 
Do not use normal dry erase markers, only use the 1Thrive markers. These special markers have better pigment than dry erase and won't rub off by mistake. Get your replacement markers here.
Use water and paper towels for easy clean up.
Add inspirational quotes. Check out our quotes for moms board on Pinterest here. 
Order the extras. It's fun to have extra markers and magnets on hand to really make your calendar come alive. 
Set a day of the week to update your calendar. Around here, Sunday night is when I look at everyone's schedule and try to make sense of who needs to be where. 
Want more tips on using 1Thrive, be sure to join the Facebook Community for inspiration and to follow them on social media. The team at 1Thrive is always providing guidance on how to keep your family on track, for example, they have awesome paper printables for families too.
I can't wait to see what system you pick and be on the look out for social media posts on how I am using this cool wall calendar to get organized this winter. 
With the crazy world right now, moms are trying to keep their sanity. I know you are doing your best, and I'm here to help. 
MORE DESIGN TIPS FROM MOMTRENDS
PIN IT!
Need more ideas on what to do with the kids? Be sure to follow our Organization board on Pinterest here.
This is a sponsored post.