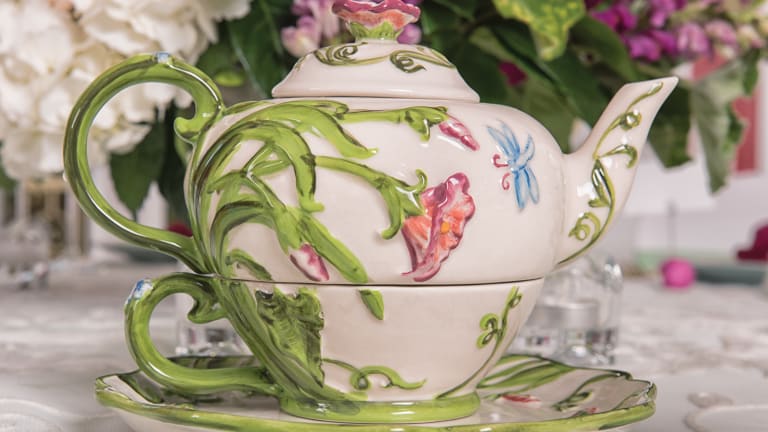 Publish date:
Fuss-Free Ways to Use Vintage China
China offers a beautifully simple way to recapture elegance in everyday living. You can use it every time you dine and entertain, and even use it to elevate the sparkle of your home décor. Here are seven ideas for using china to recapture elegance in everyday life:
1. Mix and match. If you have more than one set of china, or several pieces from different sets, it's really fun to mix and match pieces around similar color schemes. I did this when I hosted a tea party for my second daughter's coming home reception. I had two full sets of china, and a mix/match. The mix/match was stunning!
2. Use for home décor. Individual pieces likes bowls, cups, or gravy boats make beautiful vases, candy holders, and votive holders. I've often placed candles in bowls and surrounded with florals as a centerpiece. You can display items around the house or on the table itself.
3. Create personal salt & pepper shakers. My aunt was a salt & pepper shaker collector. If you are, too, or if you inherited a few sets, you can use them as personal sets for each of your guests' place settings. This is a great way to add a personal touch, and you can even pair them according to your guests' personalities.
4. Platters aren't just for serving food! You can use these as serve stands when greeting your guest as they arrive. I also like to use them as name tag or gift bag holders, or for creating multi-candle and floral arrangements to dress up the tables around the room.

Get Ready for Summer Tea Collection Sale
Even if we all have to stay local, summer is going strong. As you head to the pool or day camp you might have noticed your kids GREW during the past year. Just in time for summer, Tea Collection is rolling out a big deal on swimwear and graphic tees for kids. I've enlisted some ...read more
The Key to a Great Overnight Oat Recipe
Working moms know the importance of meal planning. I'm getting ready for busy few weeks and I've been perfecting my fast breakfast options. I've been using Bob's Redmill Organic Steel Cut Oats to prepare my overnight oats for a nice, cold breakfast in the morning and I'm going to ...read more
Morning Sickness Relief with Sea-Band Mama
While pregnancy is this amazing and beautiful time in a women's life, it is also one that can wreak havoc on the body. From morning sickness to discomfort to cravings, the body that you once knew so well becomes this vessel for your baby. Of course, this is all worth it but ...read more
5. Pretty stationery deserves elegant presentation. China cream and sugar pieces are perfect for the job. Use the creamer to hold pens and pencils, and the sugar container for notepads. Creamers are also a lovely way to store beads, small items, collector stones, or your child's keepsake mementos.
6. Give your house plants an upgrade. Vintage vases make your plants stand out. Depending on the type of plant, you may have to do some modifications to the vase for drainage. But what a stunning way to showcase your plant and add style to your living space!
7. Serve at least one "full china set" dinner a month. This can be a weekend meal with family or friends, where you set aside time to fully relish a meal together. With Easter / Passover on the horizon, it's a perfect time to start this new tradition! For the spring table, I prefer a lightweight china, florals with spring colors, or simple patterns. Even basic white set is perfect as a foundation. You can bring color to the tablescape with floral arrangements, linens, chargers, and fun accessories to complement the china.
What are some ways you use china to recapture everyday elegance? 
PIN IT!
This is not a sponsored post. Copy and expert tips courtesy of Chef Kristal Damron, owner of Reward Your Appetite Catering, a fine dining catering company committed to providing exquisite culinary dishes with exemplary service.