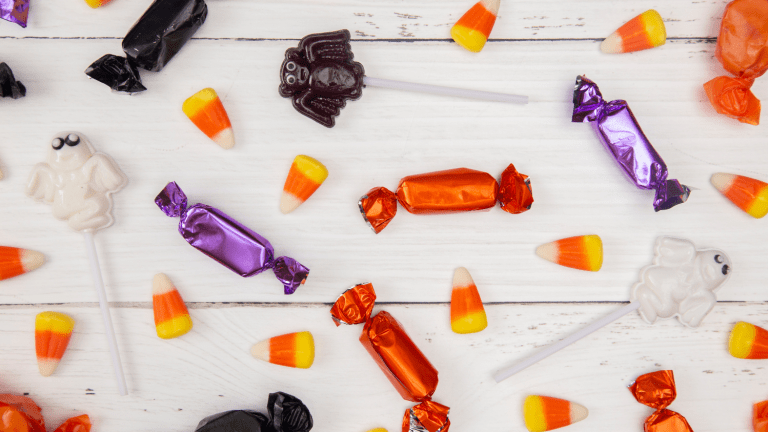 Publish date:
Three Fun Ways to Get Rid of Leftover Halloween Candy
We're sharing three fun, creative, and delightful ways to get rid of your leftover Halloween candy without feeling the wrath!
We're sharing three fun, creative, and delightful ways to get rid of your leftover Halloween candy without feeling the wrath!
Have you tried pulling the Jimmy Kimmel prank on your kids yet?
I did, and felt the wrath of two very candy-coated kiddos. They're proud of their loot. After all, they trick or treated for a full hour and a half. That's serious business and real work in the eyes of a five year old and two year old. Nobody's taking their candy without paying the price.
Related: Our favorite Halloween treat bags
Still, after two nights of candy desserts (for the littles and myself), I'm ready and eager to trash all the junky stuff. But I don't want to dispose of the spoils of their hard work; and lucky for all of us there are better ways! Here are four delightful options that'll get rid of the candy and keep your kids happy... without the hyperactivity.
Bake it Up
We especially love making a big batch of boo bark with candy corn, pretzels, and sprinkles, but you can add all your favorites from the leftover loot too. This recipe is sweet, easy, and super festive (who says the Halloween fun has to end on Nov. 2?). Get the full recipe here
Ingredients
12 oz bag of white chocolate
mini pretzels
candy corn
candy eyes
assorted Halloween sprinkles
Supples: parchment paper, baking tray

Here's What No One Tells You About Olive Oil
produce is at its absolute PEAK right now. It's the time to prepare fresh veggies and fruit with ease and simplicity. When it comes to cooking, the farmer's market is my muse. As I prepare some of my summer harvest favorites, I'm sharing a little secret, what you put ON the ...read more
Amazing Breastfeeding Accessories for Mom
As a breastfeeding mama I'm always on the lookout for stylish and functional accessories. Chewbeads and NuRoo offer moms products that pull double duty! Add an extra layer of style while also keeping it functional with Chewbeads necklaces and NuRoo nursing scarves. Both of ...read more
Directions
Line a baking tray with parchment paper.
Dump your white chocolate chips in a microwave safe bowl. Microwave for 30 seconds at a time, stirring in between until melted.
Pour your melted chocolate onto your prepared tray and spread with a spatula until it's a good size but the chocolate isn't too thin. Try to work quickly so it doesn't start hardening before you add your candy.
Let kids add in toppings of your choosing to the melted chocolate.
Let set for a few hours in the fridge until hardened.
Call Your Dentist
Make an appointment, and while you're t it, find out if your local dentist offers candy buy-back programs. In exchange, they'll give kids, for example, $1 per pound, some fun trinkets, and a toothbrush, of course.
Let the Switch Witch Do Her Thing
Have you heard of the Switch Witch? It's essentially the Halloween equivalent of the Elf on the Shelf. You give the witch your Halloween candy, and she replace it with a non-sugar gift. It's a pretty ingenious idea? (I'd give all my Snickers and Reese's Cups for craft boxes or board games!) You can, of course, offer this option on your own without the Switch Witch, but who doesn't love a good holiday gimmick? Get the scoop on her here.
Donate Your Candy
Various organizations will take our candy for charitable causes. One great option is Operation Gratitude. They send care packages to U.S. troops stationed overseas and first responders stateside. Last year, they collected 533,891 pounds of candy to give to troops and put smiles on their faces.
WANT MORE HALLOWEEN FROM MOMTRENDS?
PIN IT!
Be sure to follow Momtrends on Pinterest and for more spooky inspiration follow our Halloween and Thanksgiving Boards here. 
This is not a sponsored post.