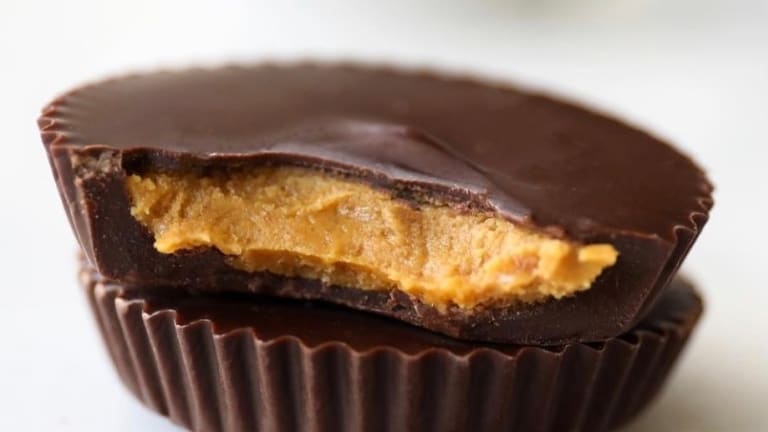 Justin's Giant Peanut Butter Cookie Recipe
We are sharing our favorite peanut butter cookie recipe to help you celebrate Peanut Butter Day.
Did you know that National Peanut Butter Day is just weeks away! To get prepared to enjoy this delicious spread, we are sharing our favorite peanut butter cookie recipe from Justin's, maker of all-natural, high-quality nut butters and peanut butter cups.
Related: How to make peanut butter and jelly sushi rolls
Justin's Giant Peanut Butter Cookie Recipe
Giant Peanut Butter Cookie Ingredients
1 full jar of Justin's Classic Peanut Butter
1 Cup Light Brown Sugar, unpacked
1/2 Cup Granulated Sugar
Scant 1/2 Cup All-Purpose Flour
5 Teaspoons Baking Soda
1/4 Teaspoon Salt
1 Teaspoon Vanilla Extract
2 Large Eggs
4 packages of Justin's Milk Chocolate Peanut Butter Cups (8 cups total)
Giant Peanut Butter Cookie Instructions
Preheat the oven to 350℉.
Put the peanut butter cups in freezer until ready to use.
Beat (with a hand mixer or stand-in mixer) together the peanut butter & sugars in a large bowl.
Add in the flour, baking soda, salt, and vanilla, and beat until combined.
Then, beat in the eggs one at a time until it forms a crumbly dough, set aside.
Roughly chop then fold in the peanut butter cups into the dough.
With a regular sized ice cream scooper, scoop the mixture onto two greased baking sheets (6-7) on each one and flatten the balls slightly with your palm.
Bake for 16-18 minutes or until edges are golden brown. The cookies may seem underdone but they will continue to cook when cooling.
Let cool on the baking sheet for a minute or two then carefully transfer them to a cooling rack to continue cooling. Enjoy!
MORE FOOD FEATURES FOR YOUR FAMILY FROM MOMTRENDS
PIN IT!
Use Pinterest to save your favorite recipes. Be sure to follow our Kid Food Pinterest board here.
Momtrends was not paid for this post.