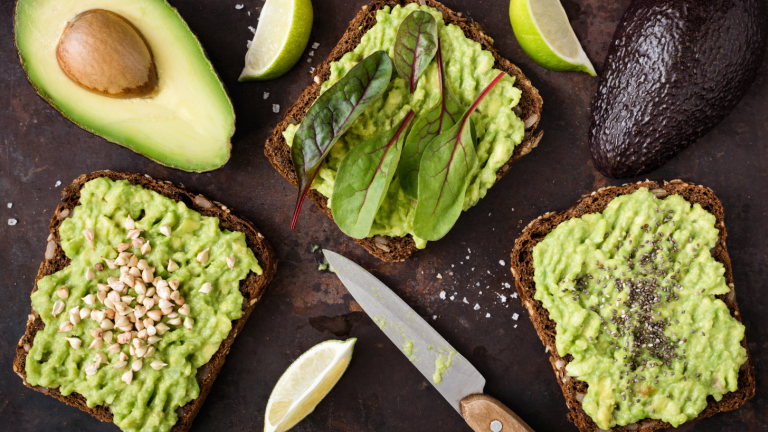 Five Quick Tips Regarding Avocado Toast
We've learned a thing or two about making the perfect avocado toast and want to inspire you to try something new.
Avocados weren't a thing when I was a kid. I didn't discover them until my late twenties, and I feel like I'm making up for lost time. Our family consumes crazy amounts of this amazing fruit. Most mornings, we grab a few of these beauties, mash them up and call it breakfast. In the process, we've learned a thing or two about making the perfect toast. I wanted to share these five quick tips regarding avocado toast to help you elevate your healthy breakfast.
Related: 10 cool and green breakfasts
Let's hear it for Avocados
Don't hold back on your love of the avocado. As a big avocado and guacamole fan, I loved hearing more about the health benefits of this creamy fruit. Avocados are a fantastic source of monosaturated fats (the healthy fats) that support healthy brain function by promoting blood flow. They are also packed with vitamin B and include antioxidants to protect against free radicals.
Basic Avocado Toast
Let's start with the basic recipe. The most important ingredient is ripe fruit. Be sure to select avocados that are soft to the touch, but not mushy.
Serves: 2
Prep time: 7 min.
Cook time: 0 min. + 5 min.
1 fully ripened avocado from Mexico, halved, pitted and peeled
Salt
1-2 squirts of fresh lemon
Ground black pepper
2 large slices bread, toasted
2 tablespoons chopped tomato (optional)
Preparation:
In a bowl, coarsely mash avocado with a fork.
Season with salt and pepper to taste. 
Add lemon.
Divide avocado onto toast and spread to cover; cut each slice in half.
If using, sprinkle tomato over top and serve.
Five More Things to Sprinkle on Your Avocado Toast
Bacon
Seeds (sesame and poppyseeds are favorites)
Red pepper flakes
Stale Bread is Your Friend
I'm not talking about moldy bread, but slightly dry bread is going to be awesome once toasted and loaded up. The best bread is sturdy and has a hearty crust like an artisan multi-grain loaf. 
Ways to Store Your Avocado
Let's say you can't finish the whole avocado, here are some tips for storage.
Avocado Hugger: these nifty devices fit perfectly around sliced avocados. With only one set you can preserve avocados large and small. These covers are a superior replacement for plastic bags, plastic wrap and wax paper alternatives.
The Citrus Method: Acid is said to slow down the process of browning. Rub the cut side of an avocado with lemon juice. 
How to Get the Pit Out of an Avocado
Check out this video. I showed my mom this trick over the summer. She said it changed her life. It's the ONLY way to take out a pit. 
I hope you learned a thing or two about this amazing fruit and are inspired to improve on the classic recipe. 
MORE FOOD FEATURES FOR YOUR FAMILY FROM MOMTRENDS
PIN IT!
Use Pinterest to save your favorite recipes. Be sure to follow our Kid Food Pinterest board here.
Momtrends was not paid for this post