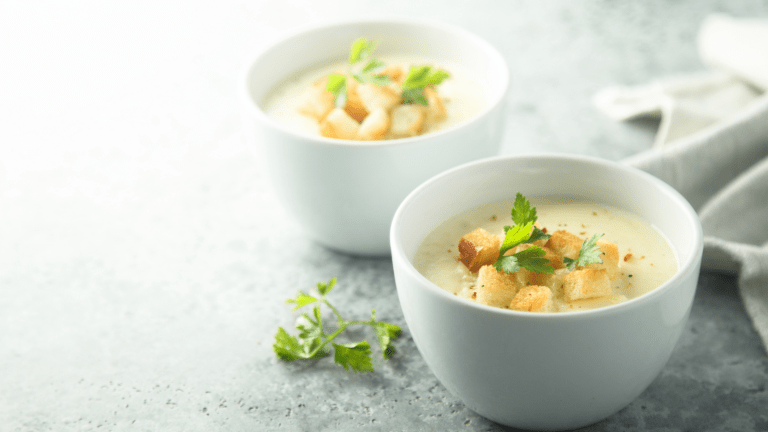 Five Cheese Tortellini in Parmesan Broth Recipe
A hearty mid-week meal that uses pantry staples and is ready in minutes.
Looking for a new recipe for dinner? Enjoy this easy and comforting meal that both you and your kids will love. I love this recipe because it requires few fresh ingredients, most of them are pantry staples. It makes a hearty mid-week meal if you ad a salad or some steamed veggies.
Related: Best soup recipes for cold winter nights
Five Cheese Tortellini in Parmesan Broth Ingredients
Prep Time: 5 min | Cook Time: 35 min | Ready In: 40 min | Yields: 4 servings
9oz package of fresh packaged tortellini 
6 cups chicken or vegetable broth
1 bay leaf
4 oz piece of parmesan cheese with rind
1 tbsp fresh lemon juice
Salt and black pepper to taste
1 tbsp extra virgin olive oil
Chives, minced
Five Cheese Tortellini in Parmesan Broth Directions
Bring a large pot of water to a boil. Add tortellini and cook according to instructions on package. Drain, cover and keep warm.
In a medium pot, combine broth, bay leaf, parmesan cheese and a few cracks of black pepper. Simmer gently for 25-30 minutes until cheese is fragrant. Remove cheese and bay leaf, add lemon juice, and season with salt and pepper to taste.
Split tortellini between four bowls and ladle parmesan broth over the pasta. Serve immediately with a drizzle of olive oil and a sprinkle of chives.
MORE WARM UP RECIPES FROM MOMTRENDS
PIN IT
Save your favorite ideas on Pinterest and be sure to follow our board Ski Mom Stuff for more winter food and drink ideas.
Momtrends was not paid for this post