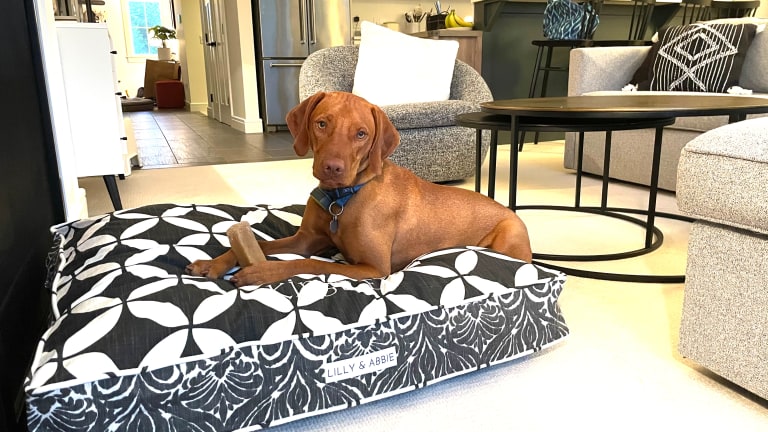 Finding a Stylish Dog Bed For Your Home
Create a custom dog for your dog that's both comfortable and stylish.
My dog is a part of my family. We're all smitten with him and he's absolutely the best boy. He plays incredibly hard and when he naps, he deserves a snuggly spot of his own. I started the hunt to find a stylish dog bed for my house and came up with an awesome option from Lilly & Abbie. Kingsley's awesome new bed arrived and I can't wait to tell you all about it. And I want to share a big deal: you can save 10% off your order with code: MOMTRENDS10
Related: Finding the perfect dog crate
Everyone Wins with a Lilly & Abbie Custom Dog Bed
First, thing first, the dog has to love how the bed feels.  No matter how cute the bed looks, the bed has to be cozy. Inside the cute cover is a premium fiber filling. It has channels sewn into your pup's bed so it won't get lumpy or misshaped. And more good news, these beds are washable.
Ok, now on to the fun stuff. Getting started with Lilly & Abbie is meant to be an enjoyable process. Anyone can go to a store and find a fluffy dog bed, Lilly & Abbie is meant for dog moms who care about style. The company started out to help pet parents combine style and comfort. You can choose your own custom fabrics to complement your home. 
Our house has a modern farmhouse decor and I wanted to add a bit of texture and pattern to our mostly black and white theme. I scanned through the Lilly & Abbie website and was blown away by all the options. There are more than 250 beautiful fabrics to pick from. Having a colorway I was working with, made it a lot easier. 
I decided on the Radiant print in Ink with a Joash contrasting print. It was on option in the designer collection on the site. I love the sophistication and the fabrics are incredible.
If you can't decide on a color or print, don't worry. Email the team at Lilly & Abbie (sales@lillyandabbie.com) and they can offer helpful advice. They also can send free swatches to you. Make sure you have fun with the process.
The purpose is to have something unlike anyone else that perfectly reflects your lifestyle, your personality, and your home decor.
Final Touches on Your Dog's Bed
Once you have the fabrics picked out, you've got to a the final touches. That means getting a monogram. Pick from seven fonts and ten colors to add your pup's name to the bed.
Now that you have all the details finalized, Lilly & Abbie will get to work making your special item. Then it's time to snuggle! Kingsley loves his new bed. Right after the bed arrived he climbed right on and played with his toys. It's a fabulous addition to our home and a special place for him.
Ready to order? Head to www.lillyandabbie.com save 10% off your order with code: MOMTRENDS10
MORE PUPPY LOVE FROM MOMTRENDS
PIN IT!
Use Pinterest to save your favorite pet tips and be sure to our Puppy Love board on Momtrends here.
Momtrends was not paid for this post.