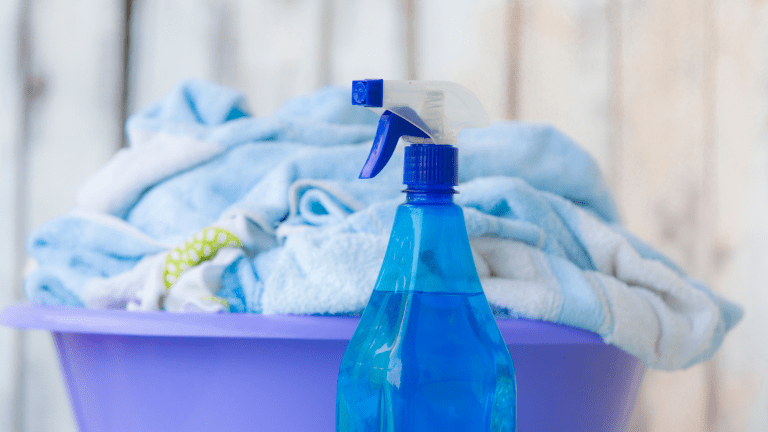 Favorite detergent for removing smells from athletic wear
Go out there and get your sweat on and do your laundry a little smarter with our tips and favorite detergents.
Have you ever wondered if your laundry detergent is really getting your clothes clean, or just removing the visible stains and dirt? With loads of workout gear in my laundry room, I reached out to my mom friends to find out favorite detergents for removing mildew smells and funky odors from athletic wear. I've got lots to share. 
Related: Safety precautions from Tide
Why Workout Clothes Stink
While many people focus on getting out from their laundry visible stains, fewer worry about removing hidden body oils and sweat. Did you know the average wash load has 20 times more body oils and sweat than it has visible stains?
If you work from the smell test, body oil and sweat are a bigger problem than visible dirt and stains present in the same laundry. Our biological residues, body oils, sweat and dead skin clog up the fabric in our workout clothes and even the strongest detergents, if not formulated to do so, won't wash those residues out of activewear made with high-tech fabrics.
I asked my group of ski moms for their favorite detergents formulated to clean your clothes of hidden body oils and sweat, which is the leading laundry soil issue.
Here are the Mom-Favorite Detergents for Removing Smells
Natural Deodorizers for Athletic Wear
If you want to skip commercial brands, there are other ways to go about freshening up your workout gear. Here are some more natural suggestions.
Sunlight: The sun offers natural sanitization. Sadly, when you live in Vermont, this is only an option in summer months, but for those of you in warm climates, it's a great hack and FREE.  Hang your clothes outdoors to dry in the sun. The heat from the sun kills surface bacteria. About 30 minutes in the sun is all you need for an extra disinfecting boost. 
Essential Oils: Many moms rely on oils to solve household woes. I've read that a few drops of lavender oil will act as an antibacterial element for your clothes. In addition, thyme oil has been known to kill E. coli and MRSA. Adding 2 teaspoons of 100% tea tree oil is all you need to disinfect your laundry. 
White Vinegar: White vinegar is a trusted cleaning solutions. When it comes to stinky laundry, use your favorite detergent, plus 2-3 Tbs of white vinegar. 
Laundry Solutions that work
These laundry solutions get to the root of the problem--the bacteria. If you are just using regular detergent, you're not doing enough: the activewear you think is fresh and clean will start to smell the second you begin to sweat in them again due to the ammonia. The ammonia in our sweat activates the stench in workout gear. Masking it with fragrance won't work. 
Go out there and get your sweat on and do your laundry a little smarter!
MORE CLEANIN TIPS FROM MOMTRENDS
PIN IT!
Need more ideas on what to do with the kids? Be sure to follow our Cleaning and Organizing Pinterest board here.
Momtrends was not compensated for this post.