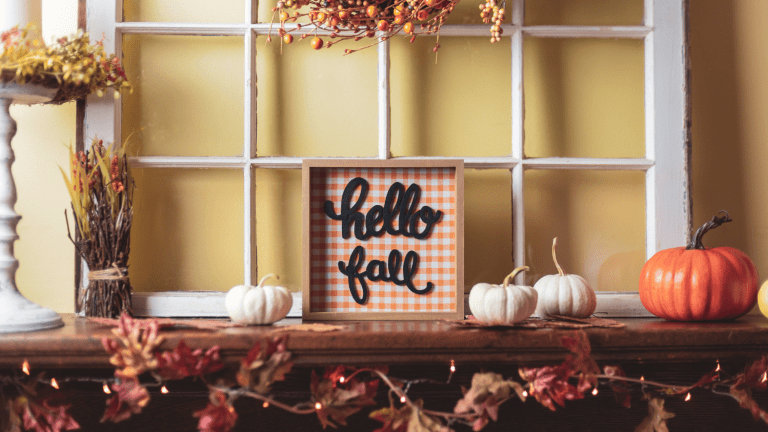 Fall Mantle Decor Ideas
We shared some easy fall mantle decor ideas to help you get your fireplace in shape for fall!
There is something to love about each and every season... Am I right? The magic of winter holidays...The beauty of spring's renewal...The relaxation that summer brings with it. They're all responsible for wonderful moments, but there is just something about fall that is different. The first hit of cooler weather makes me happier than most things. So, you could say I get a tad bit excited about decorating my home for fall. And being that we just moved to a new home and I have a fireplace for the first time in years, I'm all kinds of thrilled about decorating the mantle. And that, my friends, brings me to today's topic at hand, fall mantle decor ideas!
Related: Why your home needs more candles
Just like with my closet, I love to shop my home and make use of things I already own when it comes time for seasonal decorating. Then I sprinkle in the new pieces I pick up here and there. Take these candlesticks, for instance...While they normally hold plain candles, I picked up some two toned orange hued numbers for fall and then built up my mantle from there. I decided to let the orange be the pop of color and went with neutral hues for the rest of my fall mantle decor.

I picked up some grey and cream felt pumpkins at T.J. Maxx, a fall worthy sign and galvanized metal bucket arrangement from Home Goods and mini mason jar votive candleholders at Michael's. Those three shopping haunts are pretty much my go-tos for seasonal decorating and all the pieces blended beautifully being that they were all different heights. Varying heights add visual interest and more substance to your season arrangement, as do varying textures. So, the felt paired with the metal and the rustic pine cones all play so well together! Well, I think they do anyway. Haha! Decorating is all about putting together a home that you feel, well, at home in right?
So, tell me...Are you decorating your mantle for fall too?! And just in case you need to do a little organizing before you bring out your fall decorations, here are our tips for how to declutter your home. Cheers!
MORE FALL TRENDS FROM MOMTRENDS
PIN IT!
Use Pinterest to save your favorite ideas from Momtrends. Be sure to follow our Home Inspiration board here.
We were not paid for this post.