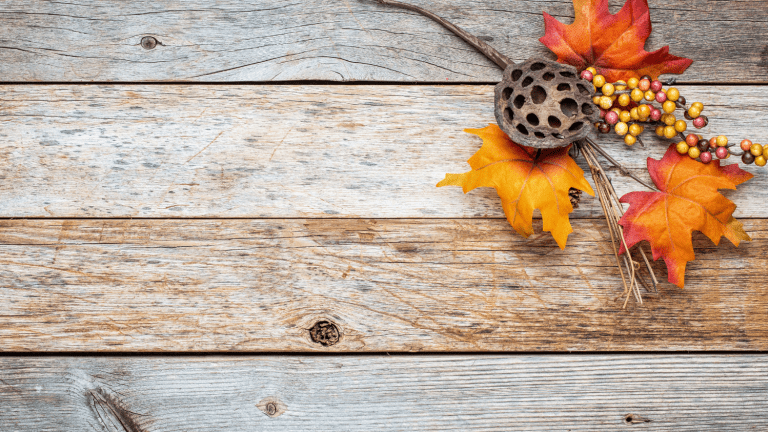 Fall Farmhouse Decor Ideas
We rounded up a slew of easy fall farmhouse decor ideas. From rustic trays to a farmhouse tablescape, we have your fall decorating needs covered!
We recently moved to a new home and after nearly a decade with my more contemporary decorating style, I decided to switch things up a bit and go for a more rustic, homey vibe. Like most of the country, I crush on Joanna Gaines' perfect grasp of farmhouse decor and while I haven't been blessed with her innate design sense, I have managed to add some farmhouse touches to our space. And since I know I'm not the only one with a love for farmhouse type decorating, I thought I would share some of my favorite fall farmhouse decor ideas!
Related: Fall mantle decor ideas
Farmhouse Decorating
Rustic Coffee Table Tray...I love a good tray decorating situation and this fun, distressed wood tray from Amara was the perfect addition to my coffee table. The best part is, I'll be able to switch out my farmhouse tray decor according to the season. You'll find dried corn, a miniature lantern and a cast iron dish in it through Thanksgiving! And you'll notice that my couch and area rug are more modern, but I'm a big believer in mixing my decorating senses, so that one isn't overkill.
Braided Accents...Braided rugs definitely have a farmhouse feel and said feel can be shrunk down in size in the form of coasters and placemats. As you saw, I already have a rug that works with my living room couch, so I decided to get my love for braided accents in another way. The coasters and placemats work perfectly with my farmhouse table and distressed coffee table! Plus, they have a nice fall feel, especially when paired with pumpkins!
Farmhouse Centerpiece...Tablescapes are the easiest way to change up the look of your table. And a fall centerpiece is one of the easiest to throw together. Simply take a rustic looking tray and fill it with gourds and pinecones. See? Easy peasy! My large and in charge tray is actually a garden trough that costs just, wait for it, $15! And the gourds and pinecones were a Lowe's score at $5 a bag. Seriously! And the finished centerpiece goes great with my every day braided placemats.
Homey Basket...Anyone with kids knows that having at least a couple sizable storage baskets on hand is clutch. Not only does one like this rattan number add to the farmhouse but, nothing feels homier than a cozy throw, so I always drape one over my baskets. They help cover up the toys I'm hiding and they're perfect for snuggling up with when the mood strikes. I've been known to curl up on my couch under this bad boy with a good book and a cuppa tea. Ahhh, bliss!
So, in a nutshell, if you're looking to add some farmhouse elements to your fall decor. Stick with rustic pieces that will have your family, and your guests, feeling right at home! 
MORE FALL DECOR FROM MOMTRENDS
PIN IT!
Use Pinterest to save your favorite ideas from Momtrends. Be sure to follow our Home Inspiration board here.
We were not paid for this post.