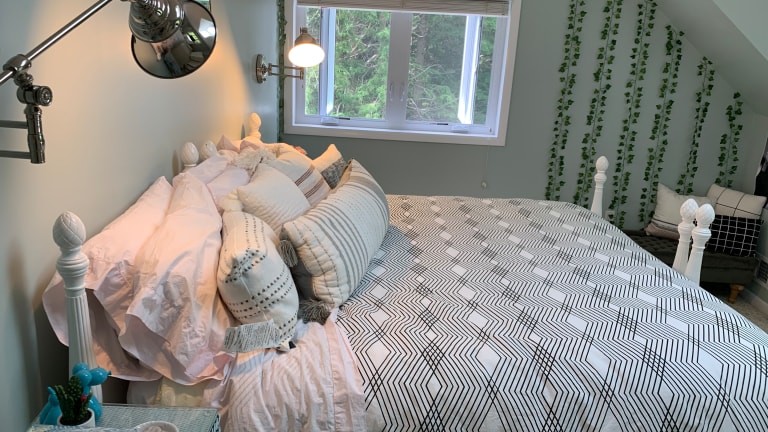 Easy Teen Bedroom Makeover
With some fresh bedding an a bit of furniture moving, you can update a room in your house to make it more teen-friendly.
I've talked a lot about summer wardrobe updates that are quick and easy, but do you also update your bedding? As a COVID makeover project, we decided to help a friend with an easy teen bedroom makeover. With some fresh bedding an a bit of furniture moving, we updated a room for her daughter. 
Related: Helping teens cope with stress
My friends have a sweet lake house in Connecticut that was meant for weekends and summers. They've had the house since their girls were little. When COVID arrived, they left NYC to be able to spread out and be a little safer. Normally, their two girls are happy to share a room for weekends out of the city, but with the extended at-home stay due to COVID, everyone felt a little stressed. 
To lighten the mood and give the older daughter more space, they decided to convert the guest room to a teen's room. With a limited budget and not a huge amount of time, they wanted a way to update this room and make it a place for her to hang out.
Before Images of  the Guest Room
The room had a nautical theme that was pretty and fresh, but not especially youthful and warm. Thankfully the room was uncluttered and tidy making this room makeover pretty easy. 
Where to Start with an Easy Teen Bedroom Makeover
To get started, my friends headed to Garnet Hill and the Company Store to find updated bedding. Since this project had to keep both mother and daughter happy, they wanted the quality to be excellent and for this bedding to also work for guests in a pinch. 
Simply changing your bedding to keep up with the trends is the key to keeping your bedroom fresh and stylish and appealing to teens. They updated the sheets with these pale pink percale sheets from The Company Store.com. The solid pink sheets mixed well with the gray and white duvet cover and accessory shams all found at The Company Store.
Momtrends Tip: Even a few fresh throw pillows can help update the look.
Easy Teen Bedroom Makeover
The biggest change was the update to the bedding. They opted to lighten up the room with bedding that adds warmth. And to make this quick update, they also turned the two twin beds into a king with this conversion kit.
With summer quickly coming to an end, the time to upgrade your teen's room is now! Soon they will be back in school (even if it is online). And here's one thing that is universal: It's always a happier home when your teens are happy.
Next Steps
This is a great start on the updated room, from here, there are more fun ideas to personalize this space. Here's the ongoing wish list:
Get a new headboard for the bed, the are eyeing the Brooklyn upholstered platform bed in silver velvet.
Add a few new accessories like this braided wool stool from Garnet Hill and this alabaster lamp.
Updated artwork. I suggested they try one of the new wall decal murals from Minted.com.
WANT MORE TRENDS FOR TEENS AND TWEENS FROM MOMTRENDS?
PIN IT!
Use Pinterest to save your favorite parenting articles. Be sure to follow our Parents of Teens and Tweens board here.
This is a sponsored post.