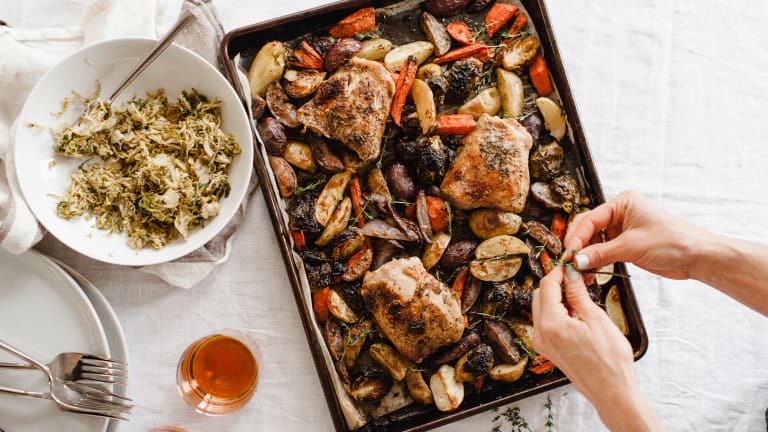 Easy Sheet Pan Chicken Recipe for Families
Roasted Sheet Pan Chicken and Veggies recipe is a favorite 5 ingredient, 3-step meal that's easy to make for your family.
While some people are using their quarantine to become the next Top Chef, those of us with kids and work appreciate a no-fuss kind of meal! That's where ideas from Sarah Adler come in. She's a chef, nutrition coach, and best-selling cookbook author and she's sharing an easy sheet pan chicken recipe for families with me.
Related: Meat free recipes cheese and broccoli quiche
Despite her passion for cooking, there are times when Sarah wants to simply press a button and have her meal made for her – which is why she'd love to share meals that essentially cook themselves with the touch of a button, helping busy households enjoy tasty and nutritious meals, no muss, no fuss. 
Roasted Sheet Pan Chicken and Veggies 
Makes 4 servings
This is a true one-pan wonder and the most comforting, delicious meal to cozy up to in the fall or winter. I advise doubling this recipe for you will have leftovers for the week.
12 brussels sprouts, halved
8 Yukon gold potatoes cut into quarters, or 1 cup baby potatoes, halved
5 carrots, chopped into ½ inch pieces
2 large bone- in organic chicken breasts
3 tablespoons olive oil
6 springs thyme, leaves only
2 tablespoons herbs de Provence
2 teaspoons sea salt
2 teaspoons pepper
Roasted Sheet Pan Chicken Directions
Preheat the oven to 450ºF.
Add the chicken breasts to a large rimmed baking dish and scatter veggies around the sides. 
Drizzle everything with olive oil and sprinkle with herbs and spices and rub in well to coat everything. 
Bake for 50-60 minutes, checking halfway through to rotate veggies, until the meat is cooked and juices run clear. 
Broil for last 3 minutes to crisp and brown the chicken skin. Serve warm. 
Get more of Sarah's recipes in The Simply Real Health Cookbook
The cookbook that you will actually use every single week. Because super easy, healthy, and delicious is what we all actually need more of in our lives.
The Simply Real Health Cookbook has over 350 hardcover pages of stunning, drool worthy recipes and healthy ideas, made for a healthy & busy life made simple. 
Get the The Simply Real Health Cookbook on Amazon here.
MORE FAMILY-FRIENDLY RECIPES FROM MOMTRENDS
PIN IT!
Use Pinterest to save your favorite recipes. Be sure to follow our Healthy Eats board
This is not a sponsored post. Excerpted from Simply Real Eating. Copyright 2020 by Sarah Adler. Photography by Carina Skrobecki Photography. Reproduced by permission of The Countryman Press. All rights reserved.