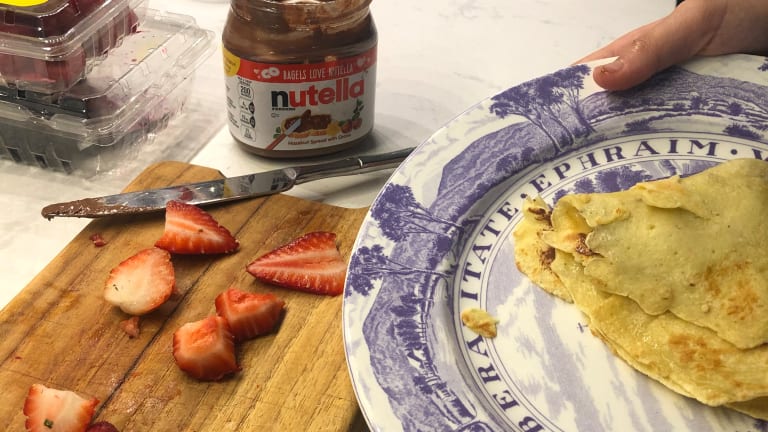 Easy Recipe for Crepes
This easy recipe for crêpes is perfect to kick off a birthday or to celebrate joy of gathering everyone around the table.
Our family loves breakfast, and we especially love weekend breakfasts when we can take time to prepare something special. This easy recipe for crêpes is perfect to kick off a birthday or to celebrate joy of gathering everyone around the table.  
Related: The best overnight French toast recipe
The crêpes we make are usually of the sweet variety and almost always involve Nutella. Crêpes are served with a variety of fillings, from simple fruit to more complicated versions that involve flames (skipping the flambéed crêpes Suzette for family time). Like all the Momtrends recipes, we highly encourage making these your own by adding your favorite fruits and toppings.
Easy Recipe for Crêpes
This recipes originated in my daughter's 9th grade French class. She had to translate the recipe into English to shop and then follow it to create the breakfast for us. The simple recipe was such a hit, its returned for many, many more meals. You likely have all the ingredients on hand, my one note is you really, really need a non-stick pan to make this work.
Crêpes Ingredients
Serves 4-6 people
2 cups all purpose baking flour
2 cups milk
3 eggs
pinch of salt
butter for pan
Toppings of your choice
Crêpe Directions
Wish the first three ingredients in a bowl.
Blend until mix is smooth (no lumps)
Add a pinch of salt.
Heat a buttered, non-stick pan.
Ladle in the batter and use your wrist to swirl the batter until the pan is covered.
Once batter sets, flip once. 
Serve with your favorite toppings.
Crêpe Toppings and Fillings
We love fresh fruit for the inside with favorites being bananas and berries. We are also huge fans of Nutella. This is almost always spread on the warm crêpes before we add fruit.
Some like to add a dusting of powdered sugar on top. We skip this since the Nutella adds the perfect amount of sweetness. You can add brown sugar or toasted nuts (like almonds) as well.
When to Make Crêpes
Our crêpes are very light and quite different than the more dense pancake. It's a nice treat that really highlights the flavor of in-season fruits, so we especially love making these in summer during raspberry and strawberry season. 
More Inspired Breakfast Recipes from Momtrends
Pin It!
Use Pinterest to save your favorite fashion posts. Be sure to follow our Recipes to inspire board here.
Momtrends was not paid for this post.