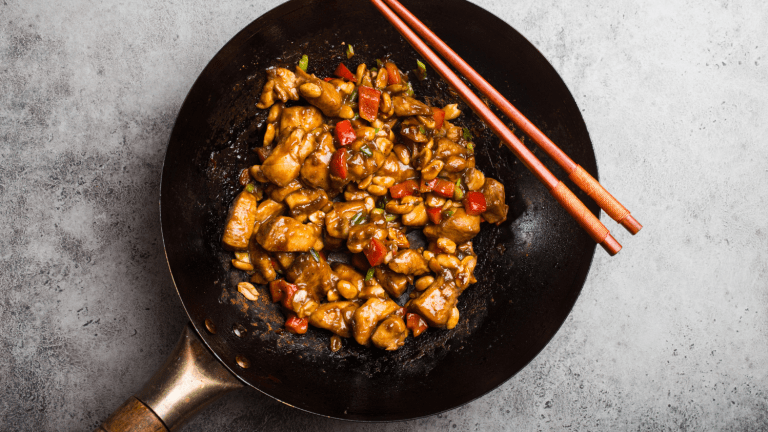 Easy Kung Pao Beef Recipe
This flavorful recipe can be spicy or mild and is perfect for a weekday family dinner.
We are working hard at our New Year's goal of meal planning in advance. I asked for suggestions from the husband and the children where I was happy to discover some workable ideas. The children wanted a favorite pork chop recipe, spaghetti, and roasted chicken. The husband agreed with the spaghetti and also suggested Pad Thai, then mentioned how he wouldn't mind kung pao chicken or beef.
Related: How to cook tatsoi
Oddly enough, I hadn't made it before, but my mom had just mentioned it in a conversation, so mom to the rescue! She sent me a favorite recipe for a quick and easy Kung Pao Beef, and mentioned that the red pepper can be adjusted for hotter or milder tastes.
Easy Kung Pao Beef Recipe Ingredients
1/2 cup teriyaki sauce
2 tablespoons cornstarch
1 teaspoon crushed red pepper
1/2 teaspoon ground ginger
2 pounds flank steak, thinly sliced
1 tablespoon vegetable oil
2/3 cup salted peanuts
4 scallions, thinly sliced
Easy Kung Pao Beef Recipe Directions
In a large bowl, combine teriyaki sauce, cornstarch, crushed red pepper, and ginger. Add steak and toss to coat.
In a large skillet or wok, heat oil over high heat. Add steak mixture and cook 5 to 7 minutes, or until steak is cooked through, stirring constantly.
Sprinkle with peanuts and scallions, and serve over steamed rice.
This is also great with chicken, just make sure to cook the chicken thoroughly, which may take longer than 5-7 minutes.
MORE FOOD TRENDS FROM MOMTRENDS
PIN IT!
Use Pinterest to save your favorite recipes ideas. Be sure to follow our Recipes to Inspire Board here.