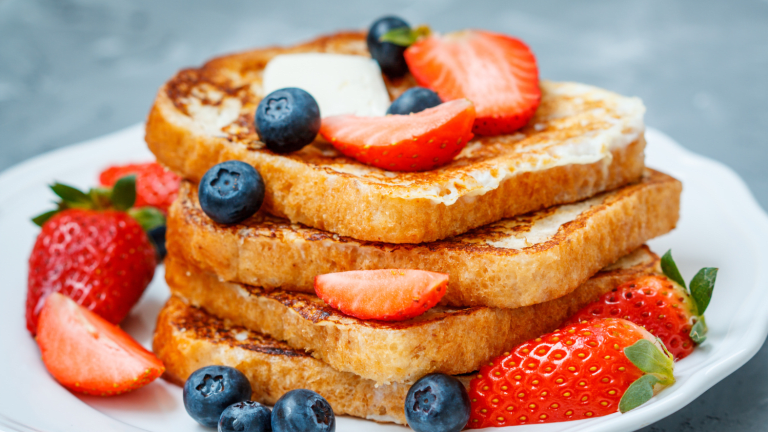 Easy French Toast with Berries Recipe
Whip up this delicious breakfast with your favorite bread and top it with summer fruits.
Looking for a way to make the most of the summer berries that are in season right now? Try this delicious French Toast recipe and load it up with your favorite berries. 
Related: Nutella French toast recipe
Why I Like French Toast
I love to whip up French Toast when I have good bread that's gone slightly stale. This is a great way to avoid waste--just turn it into a yummy breakfast.
French Toast with Berries Ingredients
4 Tbsp. butter
3/4 cup 2% milk
1 egg
4 Tbsp. maple syrup, divided
2 tsp. vanilla extract, divided
1/2 tsp. ground cinnamon
8 slices your favorite bread
2 cups assorted fresh berries
French Toast with Berries Ingredients Directions
Beat 1 tablespoon butter, milk, egg, 1 Tablespoon syrup, 1 teaspoon vanilla and cinnamon in medium bowl with wire whisk; set aside.
Melt 1/2 tablespoon butter in large nonstick skillet over medium heat. Dip 2 slices bread into milk mixture. Add to skillet and cook, turning once, until golden brown, about 5 minutes. Repeat with butter and bread, reserving 2 tablespoons butter.
Serve topped with reserved butter and remaining syrup and load it with berries. 
Add berries; cook until berries are soft and syrup has thickened, about 3 minutes.
How to make a Berry Sauce
If you want to make a berry sauce, go after it by melting reserved butter with remaining syrup in large nonstick skillet over medium heat. 
No matter which way you whip these up, I know you'll love them.
MORE Breakfast IDEAS FROM MOMTRENDS
Need more meal inspo for your family?
PIN IT!
Use Pinterest to save your favorite recipes ideas. Be sure to follow our Recipes to Inspire Board here.
This is a sponsored post.