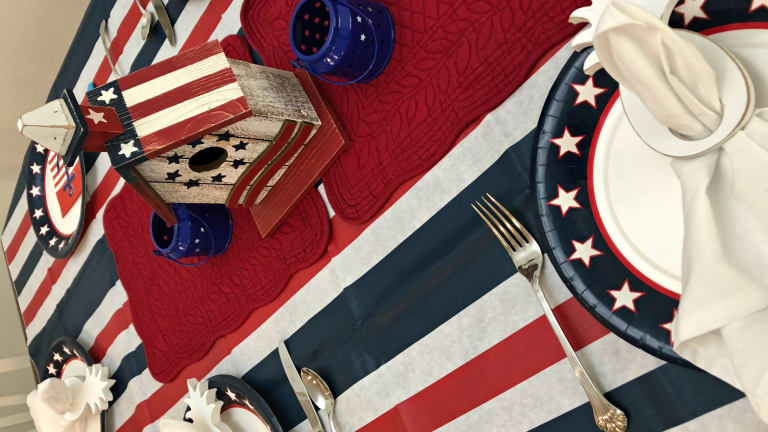 Easy Fourth of July Tablescape Ideas
Make your Independence Day celebration extra festive with our Fourth of July tablescape ideas...
Who wants to see some super easy Fourth of July Tablescape ideas? I know I'm not the only mama who loves doing it up for any and every holiday right? And the Fourth of July just so happens to be one of my favorites. It could be because my baby boy was born two days after the 4th and I can very clearly remember awaiting his arrival as my family celebrated around me that year. Now every year since I'm reminded of that special time. 
Related: DIY 4th of July flower bouquet
I'm always a little extra giddy when it comes time to plan our Independence Day festivities. And the first place I start is the dining room table. Our dining room table is the heart of our home and I like it to reflect the season or holiday at hand. Hence, the easy Fourth of July tablescape ideas I'm sharing today.
Easy Fourth of July Tablescape Ideas
My biggest tip for decorating for any holiday is to shop your home first. Take a look at the linens, paper goods, decorative accents and whatnot that you already have on hand before you go shopping. Then you can mix in some new pieces to get a fresh new look. I, for instance, already had red placemats, white napkin holders and blue candleholders. These red, white and blue pieces were a great place to start with my Fourth of July tablescape.
Next I found an inexpensive plastic tablecloth and Fourth of July worthy paper goods in the form of stars and stripes plates. All I had to do next was finish things off with a centerpiece. That's where my new red, white and blue birdhouse came into play. I flanked it with my blue candleholders and created a makeshift runner from the red placemats.
See? I told you these Fourth of July tablescape ideas would be easy peasy. I guarantee you have some of your own pieces that would be just perfect to start a fabulously festive Fourth of July tablescape with. You just have to be willing to get creative! And isn't that more fun than having a table full of matchy matchy decorations anyway? This girl thinks so!
* For more home related tips, check out these 4 game-changing home essentials you need now!
MORE 4TH OF JULY IDEAS FROM MOMTRENDS
PIN IT!
Use Pinterest to save your favorite ideas for summer fun. Be sure to follow our 4th-of-July board for more inspiration.
We were not paid for this post. No samples were provided. It does contain affiliate links.