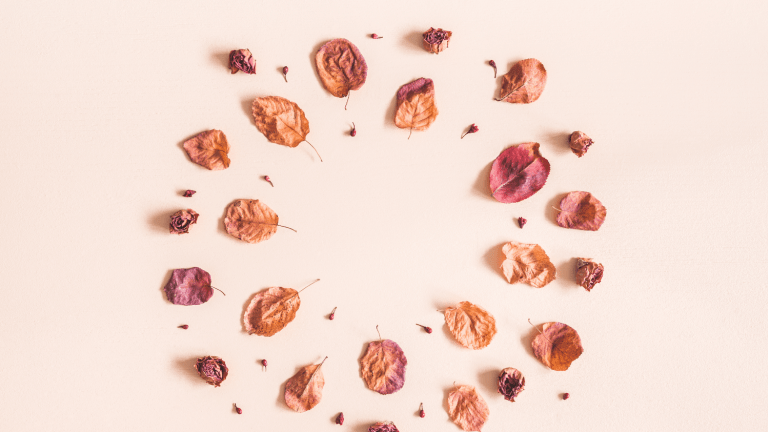 I'm currently swooning over all the doors I see on Pinterest. Their autumnal perfection is enviable. But I'm here to tell you that all your picturesque dreams are about to come true with these two easy fall wreaths. In addition to the DIY options, we've got five ready-to-go shopping options. Enjoy our favorite fall wreath picks for your home.
Related: Pumpkin pie pumpkin spice latte shots
Five Favorite Fall Wreaths
Let's start with the quick fix for decorating your front door. Here are the favorites for the season.
1. Blackbeard Wheat Wreath $106; 2.West Elm Safflower Wreath $96; 3. Blue Rock Barn Harvest Wreath; $132;  4. Magnolia Home Eucalyptus Wreath $90 5. Etsy Sunflower Wreath $62
DIY Fall Wreath Inspiration Video
Valerie McKeehan (don't know her? Google her NOW, and you're welcome!) made a gorgeous cotton wreath, and I knew I wanted to make one inspired by the cotton element. The natural, woodsy feel instantly makes me think of autumn. 
I loved it so much I made two. They are both super different—one can be used indoors and one for out. The best part about these wreaths is that you can transition them easily between seasons. Check out the details below.
DIY Wreath Materials 
Here's what you need to make the wreath in the video

Five Tips for the Perfect Pumpkin Patch Visit
It's that time of the year again...pumpkin patch time! While I love a nice Pumpkin Spice Latte as much as the next fall lovin' girl...for me, the season is all about spending time with my family...and hopefully that time is spent outside as much as possible. If you're headed out ...read more
Perfect for Fall Pumpkin Spice Dirt Bomb Recipe
Get your pumpkin spice fix with this tasty dirt bomb recipe. Unlike fried donuts, this recipe is a little lighter and, since no hot oil is involved, a lot less messy. These dirt bombs, or baked donuts, are irresistible cakey muffins that are spiked with nutmeg and ginger, and ...read more
Save Money at a Ski Swap
Are the slopes in your future? If you want to save money on ski gear, consider a ski swap. A swap is a great way to buy and sell used equipment. Most swaps consist of a variety of gear, from brand new to used skis and snowboards to skis; from poles to boots to bindings and ...read more
Glue Gun
Yarn
Ribbon
Cotton
Felt
Sewing Pins
Chalkboard Sign
Begin by wrapping the wreath base with any color yarn you'd like. I loved this blue because it felt "wintery" and looked good with the orange felt I chose to make my flowers. The green ribbon also keeps it a nice transitional piece from fall to winter. *BONUS* The chalkboard sign can be changed easily to say "Hello Winter" instead of "Hello Fall".
Win it! 
Win this "Welcome in the Fall" wreath from our favorite Etsy seller. This farmhouse chic autumn wreath features an array of complimenting colored pumpkins and sunflowers. It is the perfect addition for both indoor and outdoor fall decor.
This inviting wreath will surely earn you plenty of awesome compliments from your neighbors and visitors alike. The Burlap & Honey Grapevine Wreath was created with authentic Georgia grown grapevines. It was hung in a warm, dry room with authentic lavender and eucalyptus for two weeks and sealed to preserve it.
The designers use superlative silk hydrangea flowers that are UV resistant, so your elegant wreath can be used indoors or outside.
MORE FALL RECIPES AND DRINKS FROM MOMTRENDS
PIN IT!
Be sure to follow Momtrends on Pinterest and for more spooky inspiration follow our Halloween and Thanksgiving Boards here. 
This is not a sponsored post