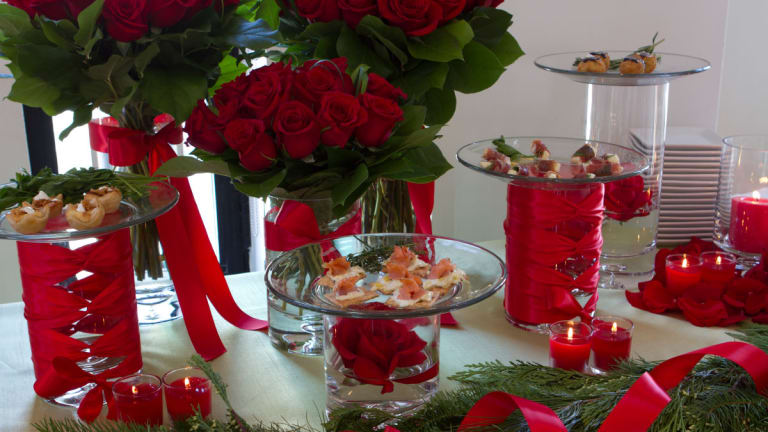 DIY Tabletop Trends for the Holiday Season
Set a glorious holiday table with inexpensive tips and tricks to help you glam up your home.
Setting the perfect holiday table just got easier. We got tips from entertaining pro Debi Lilly at the Safeway Holiday Workshop at the Bryant Park Hotel. Debi set up three glorious holiday table and shared quick and inexpensive tips and tricks to help you glam up the table this holiday. We're sharing our top DIY tabletop trends for the holiday season.
Related: Holiday tea cookie decorating party
Did you know 75% of women say that perfecting their holiday decor and meals was the most stressful aspect of holiday entertaining? What a bummer. Here are some design and decorating ideas from Debi to let you have more fun with your next party. Debi says, "Details make a difference." We loved her tips both big and small. How's this for a fun: Twist fresh rosemary or thyme sprigs as napkin rings. Looks great and your table will smell delicious!
Wrap Your Vases

Wrap a tall clear vase in this corseted fashion with satin ribbon. Insert a pillar candle inside the vase.
Use Beans to Add Color and Texture
Fill with color-coordinated items like white beans or red cranberries!
Use these sweet fruit placecards
58% of women say their biggest holiday regret is being too busy and not enjoying the food or company at events? Try a buffet! Setting the food out in advance helps you to spend time with your guests. Here are a few ways to dress up the table.
Ribbon Table Runner
Use ribbon as a runner on the table. Colorful satin ribbon is an inexpensive way to dress up your plain tablecloth.

Vary the heights of vases to add drama. Then, float a rose inside the vases. Cut off the stem and gently peel back the petals to make them full. Place clear dinner plates on top of vases to set up a chic multi-level buffet.
MORE HOLIDAY FUN FROM MOMTRENDS
PIN IT!
Use Pinterest to save your favorite holiday party ideas. Be sure to follow our Holiday Parties, Recipes and Crafts board here.
Photo Assets: all the so-so photos are mine. The really good ones are Sasha Gitin for Safeway. Momtrends was not paid for this post.