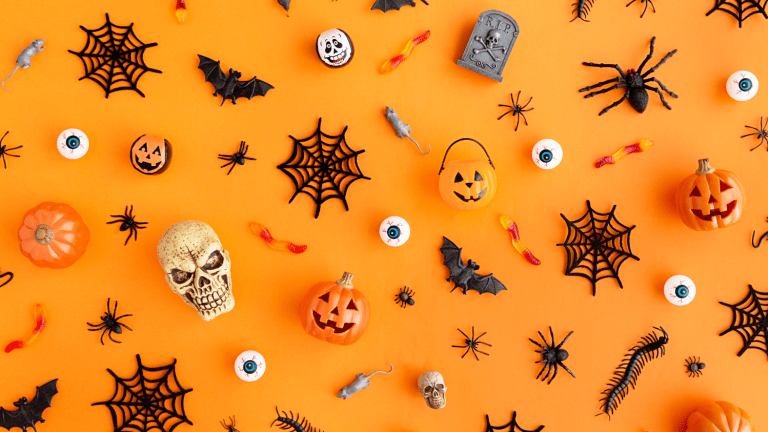 Publish date:
DIY Halloween Graveyard
The secret to any good Halloween decoration is making it creepy, try this spooky craft.
The secret to any good Halloween decoration is making it creepy, try this spooky craft.
Yes, we're hopping on the Halloween bandwagon a bit early this season. But it's never too soon to start prepping for spooktacular holiday fun! The secret to any good Halloween decoration is making it creepy. Even in small amounts, a little terror can go a long way. I found these amazing beakers at Michaels and knew I had to do something with them. Then I nabbed mini gravestones and thought it would such fun to create a miniature graveyard in the beakers. It makes a fabulous centerpiece and is oh-so-easy.
Related: Our favorite wine and Halloween candy pairings
DIY Halloween Graveyard Materials
Here's what you need to create this Halloween craft.

Get Ready for Summer Tea Collection Sale
Even if we all have to stay local, summer is going strong. As you head to the pool or day camp you might have noticed your kids GREW during the past year. Just in time for summer, Tea Collection is rolling out a big deal on swimwear and graphic tees for kids. I've enlisted some ...read more
The Key to a Great Overnight Oat Recipe
Working moms know the importance of meal planning. I'm getting ready for busy few weeks and I've been perfecting my fast breakfast options. I've been using Bob's Redmill Organic Steel Cut Oats to prepare my overnight oats for a nice, cold breakfast in the morning and I'm going to ...read more
Morning Sickness Relief with Sea-Band Mama
While pregnancy is this amazing and beautiful time in a women's life, it is also one that can wreak havoc on the body. From morning sickness to discomfort to cravings, the body that you once knew so well becomes this vessel for your baby. Of course, this is all worth it but ...read more
DIY Halloween Graveyard Video Instructions
Don't forget to get creative! Add ghosts, witches, or any other spooky decor that you can think of. Watch our video for the step-by-step instructions:

Start your Halloween graveyard by putting the moss down first. Then place your center plant. Put rocks on top to keep it sturdy. Then add some more moss. Put the graves under your tree in any order you'd like. It will look like a spooky centerpiece in no time!
WANT MORE Halloween Trends from Momtrends?
PIN IT!
Be sure to follow Momtrends on Pinterest and for more spooky inspiration follow our Halloween and Thanksgiving Boards here. 
This is not a sponsored post