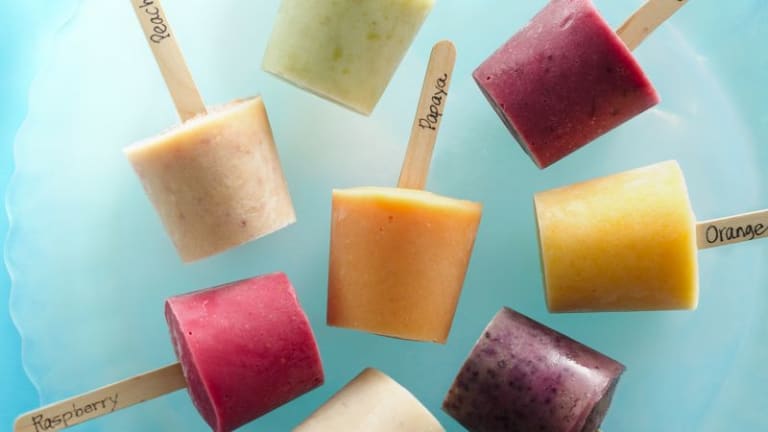 DIY Frozen Treats and Popsicle Recipes
We've rounded up a dozen popsicle recipes to make summer cool and delicious.
This summer, Betty Crocker is bringing back the original fun food on a stick- frozen pops! They are making a splash this summer as the cool, delicious and just plain fun must-have homemade recipes to enjoy while playing under the sun.
Related: 6 must try watermelon recipes
Summer Pop with DIY Frozen Treats
To celebrate one of the season's most popular food trends and to excite food lovers looking to add DIY fun to their summertime party menus, Betty Crocker has created 12 easy-to-make frozen pop recipes, from simple fruit and yogurt to adult-only cocktail pops, that only call for a few simple ingredients, a pop mold and a stick.
The culinary experts at Betty Crocker Kitchens have put extra hours into perfecting these frozen pops recipes so you can spend more fun time in the sun! Check out the following helpful tips before diving in to a summer full of delicious ice pops:
A Dozen Popsicle Recipes to Make Summer Delicious
Whether you want to share your patriotic side with a Red, White and Blueberry Lemonade Pop at a Fourth of July party or stick to your summer health kick with a Strawberry Green Smoothie Pop, these flavorful pops are the perfect complement to the summer season, with something for everyone gathered around the beach towel or picnic table:
Color Popsicle Recipes
Kid Popsicle Recipes
Boozy Popsicle Recipes
Chocolate Popsicle Recipes
Tea Popsicle Recipes
Dessert Popsicle Recipes
MORE RECIPES FROM MOMTRENDS
PIN IT!
Use Pinterest to save your favorite recipes. Be sure to follow our Recipes to Inspire board.