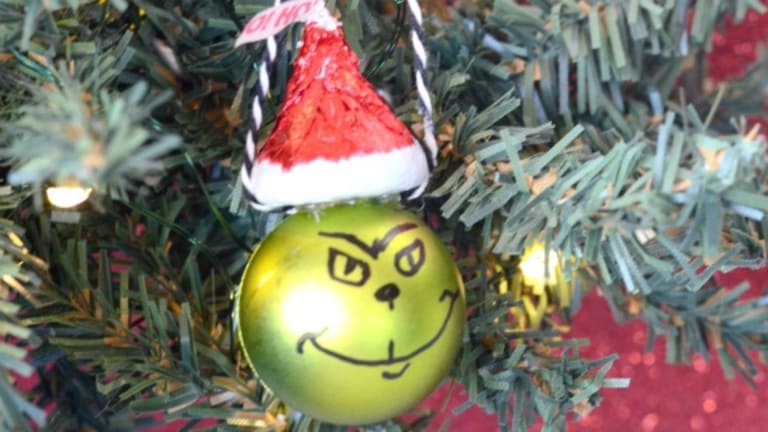 DIY Candy Grinch Ornament Craft
Keep kids busy with this cute Grinch ornament craft using Hershey's Santa hat kisses!
With holidays right around the corner, you might be like me, and in search of some cute and easy crafts for a bit of a homemade touch. We've got class parties lined up, playdates with neighbors, and, of course, the kids are going to be off for a holiday break soon. Keep them busy with this cute Grinch ornament craft using Hershey's Santa hat kisses!
For me, taking some time to unplug and carve out that quality time with my kids is important. Crafting is an easy way for me to incorporate some fun mom-time in around the hectic holiday season. Plus, this craft includes chocolate and we love chocolate. The Hershey's kisses come in a few adorable limited-edition designs for the holidays.
Grinch Ornament Craft
Whether you're feeling Grinchy this holiday season, want to cheer up a Grinch, or just adore watching the Grinch movie with your kids, this Grinch ornament craft is sure to be a hit with kids and adults alike. As you gather the supplies, don't forget these adorable Santa Hat Hershey's kisses. These ornaments are fairly easy to make and don't take much crafting skill. 
Grinch Ornament Material
First, gather your supplies
a mini green ornament
Black fine-tip marker
Hot glue
String to hand the ornament. 
Hershey's holiday kisses. 
Grinch Ornament Directions
This Grinch ornament craft takes minutes to make. It will be perfect for tying onto a goodie bag or hanging around a bottle of wine.
Remove the top of the ornament and snip or cut off any extra pieces
Cut a small piece of sting and glue to the top
Glue the Hershey's Kiss on the top
Draw a simple Grinch face on the front of your ornament
Use as ornaments, gift tags or on wine bottles. These little guys are great  to decorate packages.
MORE FROM MOMTRENDS FOR THE HOLIDAYS
PIN IT!
Use Pinterest to save your favorite gift ideas. Be sure to follow our Holiday Recipes and Crafts board here.
This craft is not sponsored.