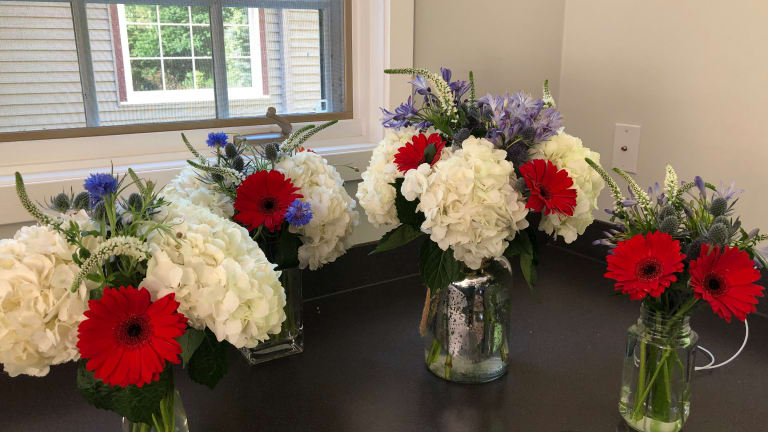 DIY 4th of July Flower Bouquet
Create your own easy red, white and blue bouquets with Fabulous Floral bundles delivered to your home.
I'm advising everyone to make this 4th of July a low-key holiday. Plan a picnic of social distance BBQ with a small group of friends or stay at home and watch the Macy's fireworks on TV. Just because there are no big parties, doesn't mean you can't create something beautiful. These easy DIY 4th of July flower bouquets are perfect for small gatherings.
Related: Blue heat wave cocktail recipe
4th of July Flower Bouquet Materials
Here's what I'm using
Hydrangea white 10 stems 
Eryngium blue thistle 5 stem bunches
Red Gerbera 10 stems
Bachelor button blue 20 stems
Agapanthus blue 10 stems
Veronica white 10 stems
Once again, I'm using Fabulous Florals for my flowers. This California wholesale floral company ships anywhere in the US and has the best American flowers. My shipment arrived in June, which is "California Grown Flowers Month" they sent me an awesome assortment of red, white, and blue all-American flowers.
You'll feel great supporting this company and did you know this week is American Grown Flower Week? 
What to Put Your Flowers in
I ordered these farmhouse buckets on Amazon (note this is an Amazon Affiliate link) if you like them. Since I needed the arrangements for two small hostess gifts, I went to my local dump. Yep, it's upcycling at its best. There are ALWAYS vases at our dump.
4th of July Flower Bouquet Instruction Video
Head to our YouTube Channel here to get step-by-step instructions to make this arrangement. 
For more flower arranging inspiration check our our Graduation mugs here.
MORE 4TH OF JULY IDEAS FROM MOMTRENDS
PIN IT!
Use Pinterest to save your favorite ideas for summer fun. Be sure to follow our 4th of July board for more inspiration.
This is not a sponsored post.