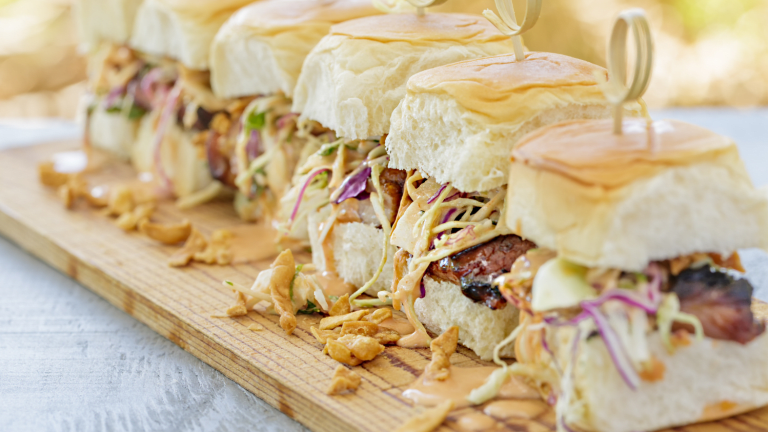 Yummy Dijon BBQ Sliders Recipe
Kick off grilling season with this awesome recipe for chicken sliders that uses store-bought rotisserie chicken.
Summer is only a few months away and to get you excited for the warmer season ahead, Sam's Club is kicking off the start of grilling season by sharing some awesome recipes with us. Sliders are a favorite at our house--the kids love the messy and flavorful meal and I like that it uses many ingredients I have on hand. You're going to love this yummy Dijon BBQ Sliders recipe.
Related: Easy and quick meals to make with store-bought rotisserie chicken
Dijon BBQ Sliders Recipe
Check out this delicious recipe from the Sam's Club Fresh, Fast and Fabulous cookbook that offers a tangy twist to the typical BBQ sliders. I adore that it uses store-bought rotisserie chicken to cut down on prep time and mess.
Total time: 30 minutes//Serves: 8
Dijon BBQ Sliders Recipe Ingredients
2 cups rotisserie chicken
2 cups shredded coleslaw mix
4 tsp apple cider vinegar
2 tsp sugar
½ cup barbecue sauce
¼ cup Dijon mustard
¼ tsp black pepper
8 slider sized hamburger buns or dinner rolls split
Dijon BBQ Sliders Recipe Directions
Mix shredded rotisserie chicken meat with barbecue sauce and Dijon mustard in a medium bowl until well coated. Warm the mixture is a saucepan over low heat.
In another medium bowl, stir together the vinegar, sugar and black pepper. Stir until the sugar is dissolved. Add the coleslaw mix and toss to coat the cabbage.
Place the barbecue chicken evenly onto the bottom halves of the 8 rolls. Then top the chicken with the coleslaw and the other half of the roll.
TIP: For a Southern punch try adding your favorite hot sauce to the barbecue-mustard sauce. For a southwest barbecue spin, add a slice of smoky bacon to your slider.
With the Sam's Club's 200% guarantee on meat, produce and bakery items, you can serve up their favorite foods to family and friends with confidence like this Dijon-BBQ Sliders Recipe. Maybe it's time to get that membership!
MORE FOOD IDEAS FROM MOMTRENDS
PIN IT!
Use Pinterest to plan your meals and save new recipes. Be sure to to follow our Recipes to Inspire board here.
This is not a sponsored post. For more information, visit Samsclub.com/meals.