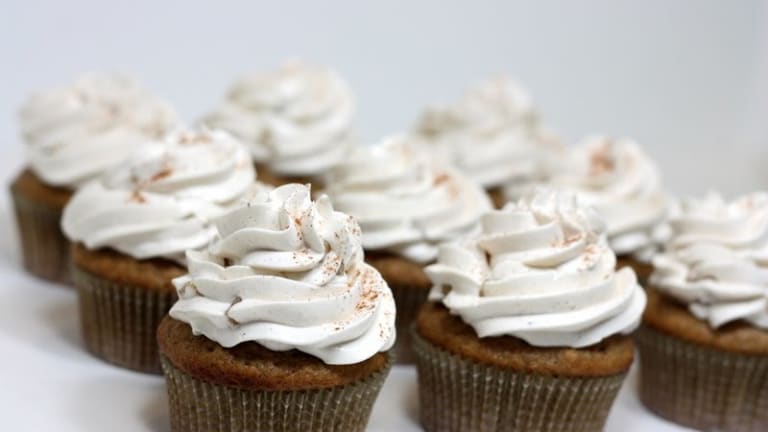 Delicious Low-Calorie Applesauce Cupcakes
Love baked treats? Here's a low-calorie applesauce cupcake recipe to try.
Later today we are posting an exclusive interview with Sophie and Katherine of Georgetown Cupcakes and the show DC Cupcakes. So we thought it appropriate to share a cupcake recipe today. I think you're going to love this low-calorie applesauce cupcake.
Related: How to make healthier rainbow cupcakes
While these glorious treats can pack on the pounds, they don't have to. Here's our favorite low-calorie cupcake recipe.
Applesauce Cupcakes Ingredients
Ingredients:
* 1/2 cup margarine
* 1 egg
* 1/4 cup sugar
* 1 1/2 cup sifted flour
* 1 tsp baking soda
* 1/4 tsp salt
* 1 tsp cinnamon
* 1 1/2 tsp nutmeg
* 1 cup unsweetened applesauce
* 1 tsp vanilla
* 1/4 cup chopped walnuts
Low-Calorie Applesauce Cupcakes Directions
Preheat your oven to 375 degrees Fahrenheit (190.5 degrees Celsius)
Blend the margarine with the beaten egg and sugar.
Sift in all of your other dry ingredients. 
Add the applesauce, vanilla and nuts, and mix well.
Spoon the yummy mix into a cupcake pan that you've sprayed with some vegetable oil to prevent sticking. 
Bake 15 minutes
After about 15 to 20 minutes, your cupcakes are out of the oven and ready to enjoy, no guilt allowed.
Ready for frosting?
Head to www.domesticgoddessadventures.com to find out about a tasty Meringue Buttercream Frosting recipe that might be worth the extra calories!
What have you been up to in the kitchen?
MORE BAKED GOODIES FROM MOMTRENDS?
PIN IT!
Use Pinterest to save your favorite recipes ideas. Be sure to follow our Sweet Treats Board here.
Momtrends was not paid for this post. Photos from Domestic Goddess.