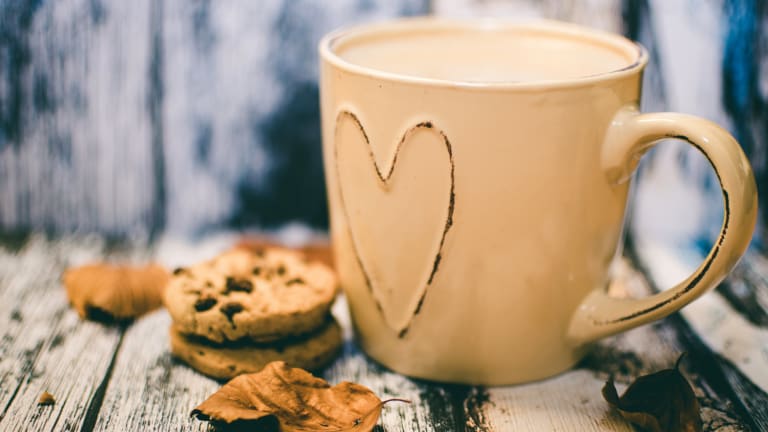 Cute Coffee Mugs You'll Love a Latté
Cupid-worthy ups for yourself, your better half, a friend, a teacher... just about anyone--because, who doesn't LOVE coffee?!
My go-to Valentine gift for teachers? A $5 Starbucks gift card with a mug and message "I Love You a Latté." 
It might not be the most original or clever idea, but, hey, I'd be psyched to essentially be handed a gratis Grande. And I do believe that coffee and love go hand in hand... When my hubby brings me a caffeinated cuppa in bed on a Saturday morning, well, I think that spells "romance." And when I sacrifice the last bit of milk to use in my kids' pancake batter rather than my java, I mean, that's an act of true love that even Anna and Elsa would marvel at.
Related: 3 ways to celebrate national coffee day
My plus-one gave me this mug and it speaks to my heart. Because, while I do, of course, enjoy a solo trip leisurely strolling the aisles of Target, I especially enjoy a couple's sojourn to the "Mother Ship." Fun fact: My husband and I went on a super untraditional honeymoon, traveling from the Colorado ski resort where we were married to a luxury dude ranch in the mountains to the spas of Scottsdale to quirky luxe Sedona resorts to charming Napa Inns... and we made it our mission to stop at every Target we stumbled upon the way. The Missoni for Target collection had just come out, and I "had to have" everything. And so we set out to find the most elusive patterns everywhere we went. It was fun, and, yes, it was romantic! We were honeymooners on a mission.
Anyway, I digress... but, my point is: a cute coffee cup can be a sweet little V-Day giftie for yourself, your better half, a friend, a teacher... just about anyone--because, who doesn't LOVE coffee?!
1. Mia Mio Coffee Mug Set, $20 / 2. I Love You / I Know Mug Set, $22 / 3. You're My Person Mug, $6 / 4. My Snuggles Are Fierce, $4 / 5. Do All Things in Love Mug, $20
Are you a coffee aficionado? Here's how you can set up a lovely little coffee bar in your own home.
More Coffee from Momtrends
PIN IT!
Use Pinterest to save your favorite family travel features. Be sure to follow our Coffee board here.
This is not a sponsored post. It contains affiliate links.