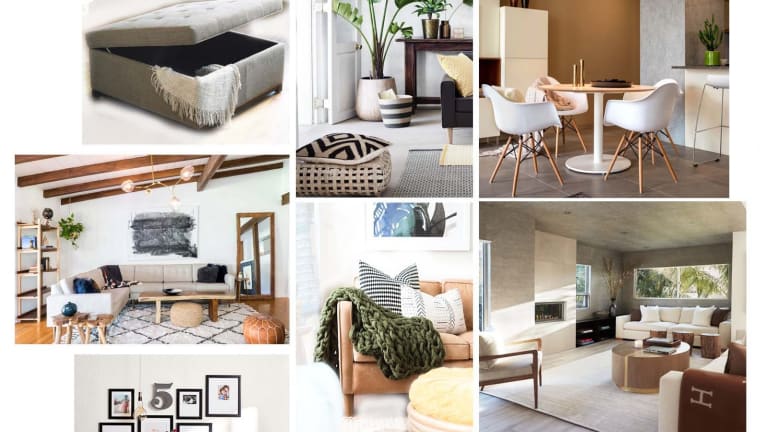 Creating a Family-Friendly Living Room for All to Enjoy
Expert Decorating Advice From the Pros at Décor Aid
A living room is often the most-used space in your home, so it's important that you really enjoy the way it looks to make the time you spend there the most fulfilling. However, the living room of a younger, single person may have different needs of those who have small children roaming around the home. Renovating around the needs of your family isn't always the most visually appealing, sometimes needing to change things around for practicality and safety reasons as opposed to stylistic ones. Décor Aid is here to debunk the myth that family friendly design needs to sacrifice aesthetic appeal, and is instead bringing you a plethora of ideas that you can incorporate into your living to create a space that's enjoyable and functional for all.
Gallery Wall
While the gallery wall has made its way into homes around the country as one of the most popular trends, it still holds up as a striking element to add to your room. To bring a bit of expression to your living room, we suggest creating a gallery wall that revolves around your family—without using solely family photos.
While it's typical to see a collage of professional photos of your wedding, combined with baby's first photoshoot and subsequent birthdays, think a bit more outside the box when looking to express your family through artwork. To mix things up and make your gallery wall more dynamic, look to include other important elements of you and your family's life together that have significance, like professional photos of your favorite vacation spot, ticket stubs from your first family ball game or concert, a precious note from an important family member, or artwork that was drawn by your children. The contrast between these elements will make for a much more intriguing approach, and incite more visual interest.
Ottomans with Storage
As most parents know, you can never have enough storage, especially when your living room seems to constantly be strewn with brightly colored toys that don't quite mesh well with your decor. It's important to invest in storage, but even more important to look for options that are multi-purpose, so that you can truly make the most of the limited space you've got. Instead of using a trunk that will simply take up space, look to an ottoman that contains storage inside. This is the perfect place to store rogue toys, extra blankets, or seasonal decor that you've swapped out. Furthermore, a rounded, plush ottoman is a safer option than a coffee table with harsh edges, and can still serve the same purpose and more.
Plants
Our high end Interior designers can't stress enough that plants are a timeless addition. There's a plant for essentially any style, so you've got a wide variety to choose from when sourcing some greenery for your living room. And not only do they bring a bright and healthy feel to your space, but many plants are air-cleaning and purify the air in your home by removing toxins. Look to plants to add some much-needed greenery and vibrancy to your indoor space, but also to show your children the important of maintenance and care to facilitate growth. Keeping a few easy care plants in the living room may actually be a great learning experience for your children to learn how to care for living things, and see the value in nurturing something to grow.
Wood
Wood brings a warmth that is incomparable to most elements. There's something that inspires the feeling of nature or a quaint cabin without having to go all out with your design. There are a number of ways wood can be used to incite warmth in your living room, from furniture to decoration. Our designers are huge proponents of using wooden beams to add some depth or dimension to a home that seems to be lacking something. They create a more cozy space, but also one that is dynamic and bold, with beams that really attract the eye and serve a visual purpose.
Furthermore, we suggest sticking to wooden furniture as opposed to metal, because it brings a softness and warmth that other materials can't replicate. Look for sofas and chairs that have wooden legs, coffee tables or console tables that are made of wood, as well as smaller decorative items to tie it all together. The warm honeyed shade of a medium shade wood is comforting and familiar to most, and works wonders in a room meant for family time.
Warm Palettes 
To play off the element of warmth even further, look to your color palette to fully realize this vision. As this is a space you'll often be relaxing in or spending time with family, friends, and other guests, you'll want to feel comfortable, and color palette plays a significant role in achieving this. Because the tastes of you and your family may change over time, we suggest sticking with neutral shades like beige and brown that have a tinge of warmth as your most prominent, so that you can adjust the supporting colors without having to repaint your walls to match. A beige wall can be minimal, but still intriguing, so you'll have freedom to vary the color as you wish. 
From there, we suggest adding colors like gold and brown in your decor, furniture, and artwork to bring a relaxed and cozy feel to the space. By including these colors in smaller elements they don't overwhelm the room, and can be easily moved around the space without disturbing the flow or feel of the room. Look to the upholstery on your furniture to define the space, as well as smaller elements like accent pillows or throw blankets. With your artwork, you'll have a lot more freedom to expand on your color palette, but we recommend still finding a way to tie these warmer shades in with the rest. 
Want more home inspiration? Check out these tips to organize your family's entrance and mud room.
This is not a sponsored post. Thank you Decor Aid for the guest article.