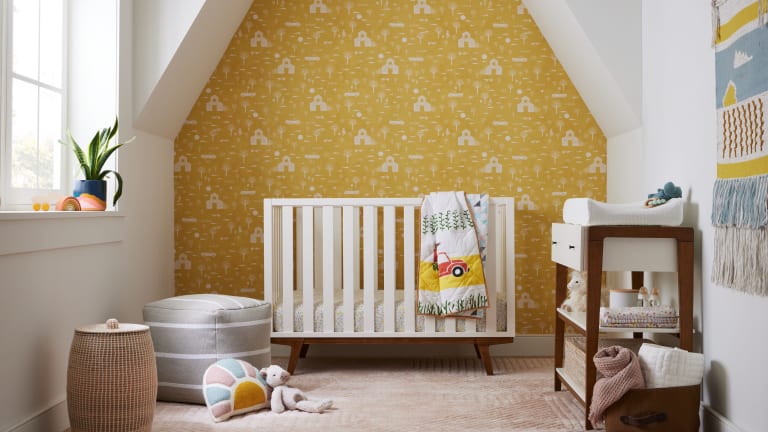 Create a Farm Themed Gender Neutral Nursery
Find out how to create your own farmhouse nursery with the perfect accents and design ideas for your baby.
The farmhouse chic trend is taking over nursery design and we couldn't be more thrilled. I'm over the overtly showy rooms filled with glitz and glam. This return to sweetness and simplicity feels just right. One of our favorite homewares shop, West Elm, has created the ultimate farm themed gender neutral nursery in partnership with children's book creators,Jarrett and Jerome Pumphrey.
The collaboration for West Elm Kids is all about bringing the children's book The Old Truck to life. Authored and illustrated by brothers Jarrett and Jerome Pumphrey, the brothers join West Elm's roster of artists and collaborators as the first black authors to debut an exclusive collection for West Elm Kids.
Related: 10 tips for a greener nursery
Shop the West Elm x The Old Truck here.
Create a Farm Themed Nursery
Farms have captured the imagination of children for decades. The process of watching things grow and working to create food is fascinating to children and a wonderful source of comfort for families in a world that is increasingly complicated. 
West Elm has perfect timing to create a limited-edition collection that is perfect for this moment. West Elm x The Old Truck collection includes 13 baby and kid-friendly pieces that draw from The Old Truck book's block-print illustrations. 
The Old Truck Inspiration
The Old Truck tells the story of family, farm life, hard work, and persistence, through the lens of a young Black girl's imagination. The Pumphrey brothers drew inspiration from the iconic image of old, aging trucks sitting in the fields of central Texas farms. 
For their debut picture book, the brothers created over 250 handmade stamps for its block-print illustrations. Each kraft-foam stamp wash and-drawn and cut by hand with an Exacto-knife. After being stamped in black and white, each page was scanned into the computer and then put together in a digital composition with full color. "It's exciting to see our hard work and persistence, key values of the story itself, pay off in the form of this new collection," says Jerome.
"To be able to share these values with a new generation of kids through the story of The Old Truck is an honor."" And to know that they might be sitting on The Old Truck Play Rug or wrapped up in an Old Truck quilt while listening to the story really brings it full circle," Jarrett says. The brother's artwork served as inspiration for the West Elm in-house design team who interpreted The Old Truck's central theme and iconography into a modern and playful collection. 
West Elm The Old Truck Collection:
Priced starting at $14.50, the collection features brightly colored prints and patterns on quilts, pillows, rugs, wallpaper, and home accessories. A few of my favorite pieces from the collection:
The gender-neutral assortment for nurseries, kids' rooms, and playrooms features sustainably sourced bedding and BCI cotton textiles.
Shop the West Elm x The Old Truck here.
MOMTRENDS PICKS FOR NEW PARENTS
PIN IT!
Don't forget to save your fave baby gear and ideas on Pinterest and follow along with our Gear for baby and kid board!
Momtrends was not paid for this post. We did receive samples for the purposes of this review.