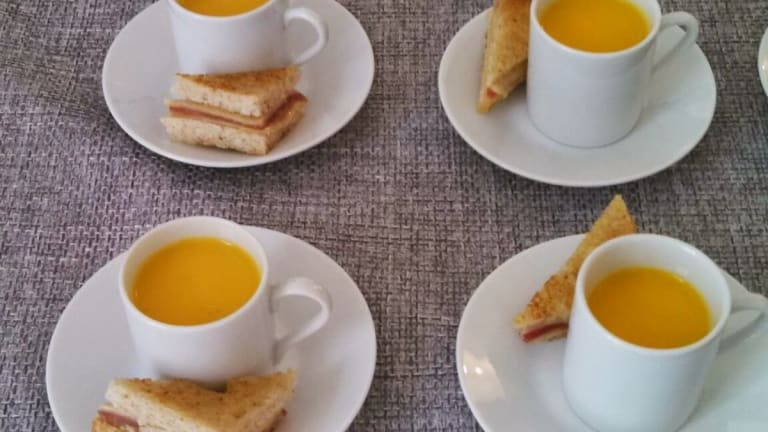 Creamy Butternut Squash Soup with Parmesan and Prosciutto Toast
Holiday eating tips and a recipe for yummy fall soup.
Nashville star Kimberly Williams-Paisley may play a drama queen on Nashville, but in real life she embraces moderation. Last week I sat down for a chat with Kimberly and got to nibble on dark chocolate while learning about the fine art of moderation. She shared a fall Creamy Butternut Squash Soup with Parmesan and Prosciutto Toast recipe we had to share for fall.
Related: Best soup recipes for cold winter nights
Kimberly (we all fell in love with her years ago in Father of the Bride) currently can be seen on the hit ABC TV drama Nashville. If you aren't already addicted to this show start watching it is GOOD. Kimberly lives in Nashville with husband Brad Paisely and their two boys. The actress says she loves working in her home town. It's easy to create some semblance of balance with travel taken out of the equation. Her role is plenty meaty--she's the mysterious Peggy Kenter, who has a steamy affair with the Mayor.
In real life she tries to avoid drama, but not steam. Kimberly told me she's currently into hot yoga to keep fit and centered. She does admit to a love for chocolate...but all in moderation. That was the real theme of the event. Enjoying great-tasting treats in smaller portions. Bravo.
The event gave me the chance to chat with this start and also try some new pairings. I really liked the taste of the Sam Adams stout with Hershey's dark chocolate.
The busy mom, says she when it comes to "Me time" she opts for easy to make comfort food like creamy butternut squash soup with parmesan and prosciutto toast paired with a glass of prosecco (girl after my own heart). She caps it off with a bite of HERSHEY'S BLISS Dark Chocolate.
Indeed my favorite recipes from the event had NOTHING to do with chocolate. It was the creamy soup courtesy of Chef Athan Spanos of The Hotel Hershey.
Creamy Butternut Squash Soup with Parmesan and Prosciutto Toast
Yield: 8 appetizer-portion servings Prep and Cook Time: 45 minutes
INGREDIENTS:
For the soup:
1 butternut squash, peeled and diced (approximately 24 ounces)
1 carrot, peeled and diced (approximately 4 ounces) • 
1 white onion, diced (approximately 4 ounces) • 
1 Granny Smith apple, peeled and diced (approximately 4 ounces) • 
1 tablespoon of oil • 
16 ounces of 2% milk • 
48 ounces of water • 
1 1/2 tablespoons of honey • 
1 bay leaf • 
Salt and pepper to taste
For the toast: 
3 thin slices of prosciutto 
1/2 ounce of parmesan 
2 slices of sourdough bread
DIRECTIONS:
For the soup
Saute the onion and carrot for 2 minutes. 
Add the water, apple and squash; bring to a boil for 30 minutes. 
Add 1 1/2 tablespoons of honey and 1 bay leaf; simmer for 2 more minutes. 
Remove the bay leaf, add the milk and bring to a simmer.
Puree with an immersion blender and season.
For the toast:
Butter outside of sourdough bread, then layer the parmesan cheese and prosciutto between the two slices as though you were making a grilled cheese sandwich.
Slowly toast in a pan until golden brown on each side. 
Cut into 8 triangles and use to garnish soup.
MORE WARM UP RECIPES FROM MOMTRENDS
PIN IT
Save your favorite ideas on Pinterest and be sure to follow our board Ski Mom Stuff for more winter food and drink ideas.
Momtrends was not paid for this post. I received the information about dark chocolate and the recipe from The Hershey Company and we did get a goody bag.