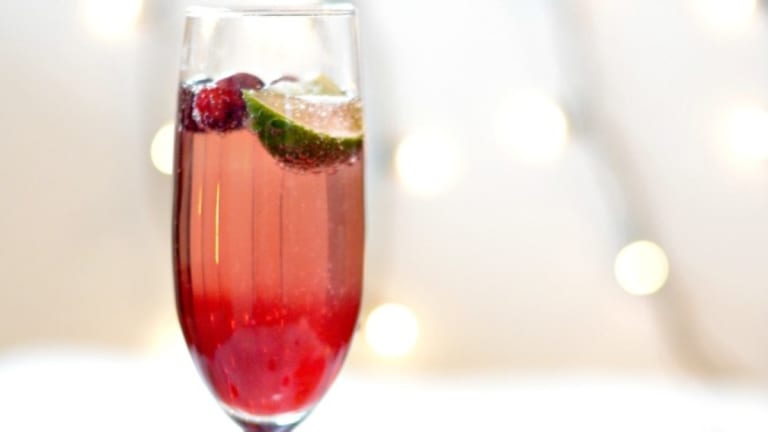 Cranberry Cocktail for the Holidays
Fresh holiday drink recipe: Add cranberry juice and lime to brighten your champagne cocktail.
What better way to spread some holiday cheer then by toasting it up with a holiday inspired cocktail. Cranberry is always associated with the holidays and this cranberry cocktail is easy to create for your next holiday soiree. We love Champagne during the holidays and adding the cranberry juice and lime really brightens up this popular drink.
Related: Cranberry Sangria spritzer cocktail recipe
The holidays are always full of parties and get togethers with family, friends, co-workers, you name it, everyone wants to party during the holidays. There is always loads of delicious food and trays and trays of sweets to be eaten. We wanted a light and refreshing cocktail that you can enjoy this holiday season without feeling too guilty. This cranberry champagne cocktail is easy to make and hits the spot.
With its festive red and green colors and fun bubbly layers the Holiday Cranberry Champagne Cocktail is sure to be a hit with your guests.
Holiday Cranberry Champagne Cocktail Ingredients
Chilled Champagne (or sparkling wine or sparkling white grape juice for mocktail version)
Cranberry juice - chilled
Lime - cut into wedges
Cranberries - chilled or frozen
Holiday Cranberry Champagne Cocktail Directions
Fill your champagne glass about 1/3 of the way full with your chilled cranberry juice. 
Squeeze a wedge of lime juice into your glass. 
Tilt your glass and fill the rest of the way with the chilled champagne.
Top with a wedge of lime and a few cranberries. Sip and enjoy!
Note you can make this a mocktail versions using sparkling cider and serve it to the whole family for a special meal.
MORE HOLIDAYS FROM MOMTRENDS
PIN IT!
Use Pinterest to save your favorite gift ideas. Be sure to follow our Holiday Recipes and Crafts board here.
This is not a sponsored post.