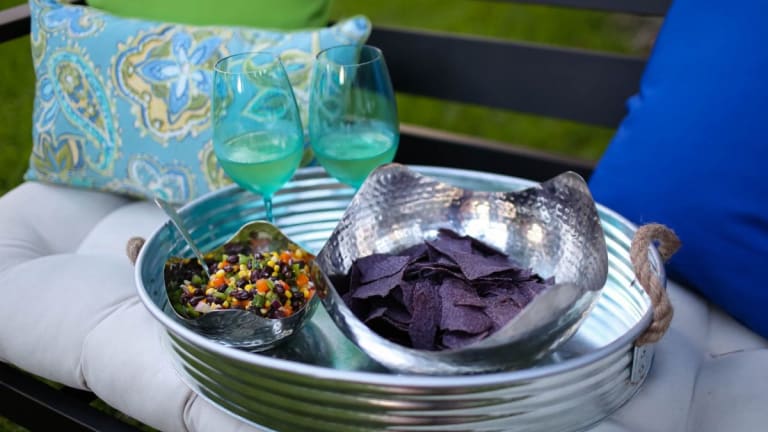 Perfect Summer Corn Salsa Recipe
Summer is all about easy entertaining. This chill recipe is a great dip or side salad for your next informal gathering.
There is no part of the day I love more than the early hours of the evening...particularly in the summertime. There is something so magical about the sun setting and dusk's arrival. It can make an ordinary night downright enchanting. And that is why I'm particularly fond of cocktail hour…So is the rest of my family as a matter of fact. Haha!
Related: Summer date night ideas at home
We often get together on the weekends to decompress after a busy week and enjoy one of my mom's amazing meals. I may not be as naturally good a cook as she is (hey, I'm working on it), but I have managed to master the art of entertaining and, therefore, throw a mean cocktail hour.
Before we all sit down to break bread, we like to sip on a nice glass of wine and put out an appetizer or two while the kiddos play at our feet. There is something so relaxing about simply sitting outside and enjoying the beautiful summer evening, as well as each other's company!
Corn Salsa Ingredients
1 can black beans, rinsed
1/2 green pepper, diced
1/2 red or orange pepper, diced
1 cup corn kernels, steamed
4 green onions sliced
Italian salad dressing to moisten
Corn Salsa Recipe
Mix the above ingredients together.
Toss with the Italian salad dressing. 
Refrigerate for at least an hour. 
Add more dressing if desired. 
Serve with corn or tortilla chips.
So, do you enjoy summer cocktail hour as much as I do? Why not make it a summer tradition?!? 
MORE SUMMER FUN IDEAS FROM MOMTRENDS
PIN IT!
Be sure to use Pinterest to save your favorite ideas for date night. And for more Summer Fun, be sure to follow this board.