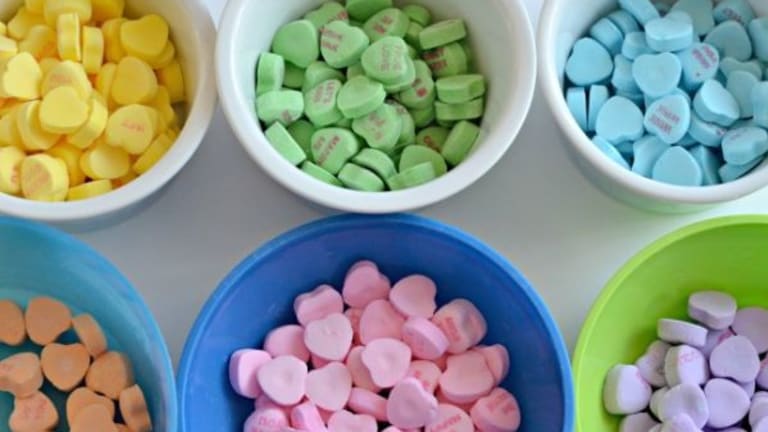 Conversation Hearts Vodka and Martini
Our recipe for a sweet Valentine's cocktail that's loaded with flavor and color.
We're totally in the Valentine's Day spirit and after seeing Conversation Hearts in just about every store we've been in lately we knew we needed to infuse some vodka with this traditional Valentine candy. Then, of course, we whipped up an easy Conversation Heart Martini to sip on Valentine's Day.
More sweet sipping, try one of these three Valentine's cocktails.
Conversation Hearts Vodka and Martini
This is almost and arts and crafts project. It's a cocktail that uses  infusion to create a colorful Valentine's cocktail. 
Infusing the Conversation Hearts into our vodka only took about an hour and now we have a sweet Valentine liquor that we can gift to friends and make a martini at a Galentine's day party.
Here's how to infuse vodka with Conversation Hearts!
Needed:
Conversation Hearts (I got mine at the dollar store)
Vodka
Jars or bottles
Strainer and cheesecloth
Helpful Tip: 
I recommend separating your conversation hearts by color so that each color and flavor stays true and you don't end up with brown colored vodka. That wouldn't be very pretty at all. Not very romantic. Pink obviously says Valentine's day the most.
Conversation Hearts Vodka and Martini Directions
Start by separating your conversation hearts into jars. 
Have a separate mason jar for each color.
Fill the jars with vodka of your choice and screw on the lid.
Let your vodka sit, shaking a few times.
Waiting is the Hardest Part of this Cocktail
I let mine sit for about an hour and decided it was done. I strained out the bits of candy that were left using a super fine strainer and a cheesecloth.
Now, you have several bottles of fun conversation hearts infused vodka. What to do with them? You could give them as gifts to friends, enjoy them as shots or make our Conversation Heart Martini.
Conversation Heart Martini
Ingredients
1 oz club soda
3 oz conversation heart vodka
1 tsp sugar
whipped cream (optional)
rimming sugar
Directions
Mix together the vodka with about 1 teaspoon of sugar. 
Stir (don't shake) the club soda into your vodka. 
Pour into a sugar rimmed martini glass. 
Optional: top with whipped cream and a conversation heart for a sweet touch.
Cheers and Happy Valentine's Day!
MORE WAYS TO MAKE IT A HAPPY VALENTINE'S DAY!
PIN IT!
Be sure to follow our Valentine's Day board and pin your favorite ideas.